P. Sainath: Who hoped against hope
New Delhi, Wed, 01 Aug 2007
Binita Tiwari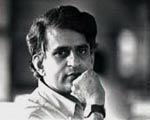 Aug 01: There was a wind of change blowing; something was there to make us aware that we are alive. Palagammi Sainath came on this earth to a distinguished family whose member, V.V. Giri served as president of India.
He has been bestowed Ramon Magsasay award 2007 for journalism. This award came as recognition of his work, his perseverance and determination. He always believed that the strength of a society lies in its weakest link. He advocated and raised his voice for millions whose cries were never heard before.
Ramon Magsasay Award Foundation was established in 1957; it is Asia's highest honor and is widely regarded as region's Nobel Prize. It is in the memory of late president of Philippines Ramon Magsasay and as a celebration of his idealism in true services in different field for humankind.
P. Sainath did his schooling from Jesuits of Madras. He graduated and did his masters in history from Jawaharlal Nehru University, Delhi. His deeds spoke, he was a member of activist student group.
He started his career as a journalist of United News of India, and then worked for Blitz, a south Asian weekly from Mumbai, he got fellowship of the Times of India, reported on several issues and several photo exhibitions based on the photos he gathered during his tours to rural places showing plight of rural India.
P. Sainath belongs to a tribe who is determined and knows what they want to do in their life. He hoped against hope and worked for the socially backward voicing for them, questioning the very structural disability of our society, casteism, inequalities, which pass from generation to generation. He was the one who with his dogged determination investigated the problem and causes of suicides by debt pressed farmers, drought, agrarian crisis, caste discrimination, atrocities on dalits etc. He also focused on neo-liberal policies like globalization, privatization and their effect on rural development.
He provided evidences, he challenged by his thought provoking report and analyses, which led the authority to ponder as a result the relief measures in various social sectors were enhanced.
He resonated his experience, knowledge and skills to the downtrodden whose concerns were never addressed ethically. Being empathetic to their cause, he put all his earnings and resources to help them. Sainath was instrumental in creating awareness and support for social problems. He is against the type of media, which thrives on advertisements rather than circulations.
He tried to bring a genesis of change by creating a new breed of rural reporters with different point of view as he says, "if Indian press is covering the top 5% he will cover the bottom 5%.
Based on his report on ten poorest districts of India he came out with a book "Everybody Loves Good Drought" which is considered as a handbook for NGO activist. What he earned through the royalties he used it to fund to produce the young brand of rural journalists.
His power is his pen and he used that power to trigger the stimulus of many who were sleeping with eyes wide open. He got many responses ranging from bureaucrats to politicians on various issues of national importance, which are dragging India behind.
This is a salute to a 'rural reporter' as he liked to be called on his triumph, wish that India too get that special looking glass to recognize and facilitate the enormous potential and qualities which usually go unnoticed.