Discrimination against women prevalent even in high offices
New Delhi, Thu, 26 Jul 2007
Pallavi Sharma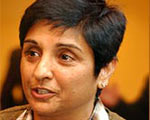 July 26: With the announcement of the name of next police commissioner of Delhi on Wednesday Kiran Bedi an officer of courage, persistence, and perseverance was left behind by her junior Dadwal in the race of the post. Nothing new. This is quite tuned to the traditions of the Indian society. The phenomenon reflected nothing new just once again highlighted the gender discrimination prevalent even in high offices. The attitude usually practiced my mass in society now incorporated in the top political as well as official arena.
If a highly successful, meritorious woman in the police department faces discrimination at the hands of same government which has made laws against any prejudice against woman how much protected can the common woman feel against this traditional practice. Gender discrimination deep-rooted in the male-dominated Indian society came to surface once again.
Never comfortable with injustice Bedi stood up and voiced against the injustice done to her by overlooking her seniority as well as merit for the top post of the city.
Yudhibir Dadwal will take over as Delhi Police Commissioner on Thursday succeeding K K Paul who is moving to UPSC as a member.
Bedi said that it was not only an individual loss but the loss of the capital and she would leave no stone unturned to fight for it. Definitely it is not the loss of her only but the loss of the Indian women her prestige, her confidence, her stand in society who in spite of riding as high office as President stands no where.
She called it an unfair decision and said that the decision is a compromise on merit and this will send a wrong message for women. She expressed her disappointment over government's decision.
The decision is definitely not facilitation of the virtues like honesty, dedication devotion one has for one's service especially that of woman and will promote patronage in high offices.
In political galleries it seems a fine mix of gender discrimination and politics. This is irony for the country that from a somber office a meritorious person is deposed and a controversial is placed due to dissensions of opinion. Definitely citation refers to Presidential elections. Here is politics.
Now the former one dominates. Here is both gender-prejudice and politics. This also reflects to the erased work ethics and sense of duty in bureaucracy where officials opposed to Bedi's appointment.
Bedi complained of P M being unfair while he has the final word in the cabinet. Question flashes in mind does he really have?
Positive results of her reforms put her ahead of any one. No less feathers decorate her cap. She has been DIG in Mizoram, IG of Chandigarh, Director General of NCB, Inspector General of police at Tihar jail, joint commissioner of police training and special commissioner in-charge of intelligence.
She worked in United Nations, currently director general of BPRD, won Magsaysay Award but is this enough for a woman to prove her worth for a post while having a male-contender?
Let's hope for the win of Indian women against injustice and discrimination. Whole episode just magnifies the discriminatory treatment meted out to women since their birth, even before than that.