No childhood for millions in India
New Delhi, Fri, 20 Jul 2007
Pallavi Sharma
null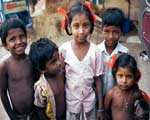 July 20: Despite various promises by the government in the form of welfare schemes and laws, future (children) of this country is in dark due to innumerous problems having no platform to speak for them except some NGOs taking them seriously.
Initiatives of the government fail to be of much help as implementation of the projects like other fields falls a victim to corruption and lack of will on the part of administration.
UNESCO's revelation about the status of children in India is a shame to the country who has enough resources at her disposal. According to UN estimates, 72 million children in India do not have access to education and India would not be able to provide education to all children even till 2015 while India boasts of 93% enrolment in schools at present and to achieve 100% till 2010.
Education is not alone in the list of problems children facing in India. Its brethrens are increasing violence against children, lack of health facilities rendering them vulnerable to chronic diseases, child labour and child trafficking apart from prostitution.
UNICEF report says that more than 500 million children do not have access to proper shelter better it is to say that they are homeless and a bit less to safe drinking water.
There is no provision of health care facilities for 270 million children. India also harbours the highest number of street children, the largest number of children suffering from malnutrition. Report says that healthy life is still a dream for millions of little souls. A huge number do not receive immunity from diseases.
About 6.6 million suffer from iodine deficiency leading to the brain damage. The national family health survey says that 70% children of India suffer from iron deficiency. There are 1,70,000 children affected by AIDS/HIV having none to care and most neglected in society.
As far as the education is concerned official accounts are termed as 'statistic illusion'. Non-demarcation of the age group inflates the ratio of enrolment of children. Actual ratio figures out to be only 75-78% keeping hell lot of children out of school.
A survey revealed that increasing drop out rates and low retention rate neutralize the enrolment ratio.
India has become a place where environment for children is not safe. Several examples can be cited in support of the argument. Nithari case putting a question mark on the safety of the children reflects the violence being perpetrated on innocent beings.
Today children are becoming the objects of murder, rape, abduction and these crimes are not confined to only poor ones but permeate to even middle and higher class children.
Crime rate against children is increasing by 3.8% annually according to the NHRC report. Every year 45,000 children go missing out of whose 11000 are never traced.
Children are not safe either in their homes, work places or on the streets.
Children's number turns out to be the largest as victims of human trafficking. It is not very infrequent that we come across the news of selling of babies in newspapers. Children are the worst affected by this heinous crime. There is neither any child protection cover nor the issue has ever been addressed on legislation level.
Child labour is a termite which is slowly eating our millions. Laws are available to cure this disease but what is most needed is their strict application by the implementing agencies.
For lack of any basic amenity such as education, health, healthy social environment, most of these homeless souls are abused physically, emotionally without any protection cover for them.
It is still not too late to save their childhood. What we need first and foremost is the awareness about their plight and their rights as a child. And as is directed by the Supreme Court too we should promise them a dignified existence.
Central monitoring commission's suggestion to have juvenile police unit in every police station can be followed to prevent the crimes against children. And a protection mechanism on community level should be evolved as is often suggested by child rights activists. Children are asset of a country and their condition is a mirror of the nation's social, economic condition.
null