8th World Hindi Conference begins today in New York
New Delhi, Fri, 13 Jul 2007
Pallavi Sharma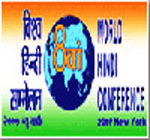 July 13: Vishwa Hindi sammelan(World Hindi Conference) inaugurates today at United Nations Headquarters in New York. Hindi scholars, poets and writers are gathering to attend the conference. The Conference will go on July 13 to July 15.
The Conference is held in every four years. Seven World Hindi conferences had been held in all over the world so far. First Vishwa Hindi Sammelan was organised under the leadership of Indira Gandhi, the presented Prime Minister. The primary object of this meet is to show the significance of Hindi before the world as a global language, so that it can achieve the right place and can be an official language of international body of United Nations. According to 'Comrie' survey (held in 1998), Hindi is the second most spoken language of the world after Chinese.
It is being organized by Indian government with the cooperation of ministry of external affairs and Bhartiya Vidya Bhavan, New York. Several Hindi organisations based in US are also voluntarily contributing to the phenomenon.
New Delhi has been asking to recognise Hindi as an official language of United Nations. This event goes one more step in this direction.
There will be deliberation on the growth of Hindi in this meet. Conference has been held to think over some issues like how to make Hindi more popular in other necessary fields such as information technology and Bollywood that is loosing its charm for avoiding correct Hindi.
New York has been chosen this time as a host place assuming the large number of Non- Resident Indians. Vishwa Hindi Diwas had also been celebrated earlier this year in USA at February 09.
Ministry of external affairs of state has launched the website, vishwahindi.com some times ago at Indian consulate in New York. Main objective of the conference is to establish Hindi on world stage. The award function will go on at the end of conference.