Via Darjeeling: Movie review
Shivani Gupta, Sat, 28 Jun 2008
NI Wire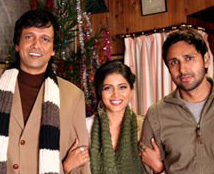 It happens many a times that good polished actors suffer from lack of good script and opportunities. They keep looking for something 'off the track' and finally end up in a link up with a wrong project. The same thing happened with the actors in Via Darjeeling.
The storyline of the movie seemed to be tagging the viewers in the beginning by its hair-splitting mystery case of a honeymoon couple. But soon it ended up being just a good starter which left the audience frustrated and unhappy. The various open-ended stories failed to link up together in one thread so as to weave the story and complete the narration of the plot in a more meaningful manner.
The story is about a married couple Ankur and Rimli Sharma, played by KK Menon and Sunali Kurkarni, who meet with a mysterious tragedy during their honeymoon. Many years later the course of events are unfolded and even recreated at a gathering of five friends, one of whom is an inspector who failed to solve the mystery of the case earlier.
They interestingly come up with their own versions of the story. This itself is enough to churn the stomach of the audience. But, as the course of events does not turn up the way they are expected to be, it leaves them disappointed. The actors are not able to justify their roles due to lack of good script and roles.
As far as acting is concerned, both Menon and Vinay Pathak have done their part in their usual fashion, but somehow the debutant director Arindam Nandy lost his imagination while presenting multiple narrations and couldn't translate his ideas into some interesting experience thereby ending up with an experimentation.
Cast/Crew
Kay Kay Menon - Ankur Sonali Kulkarni - Rimli Prashant Narayanan - Kaushik Chatterjee Rajat Kapoor - Ronodeep Sen Simone Singh - Preeti Sen Sandhya Mridul - Mallika Tiwari
Director: Arindam Nandy Producer: Joy Ganguly Written by: Arindam Nandy , Atul Sabharwal