Nagaland wins UN Public Service Excellence Award
New Delhi, Tue, 24 Jun 2008
NI Wire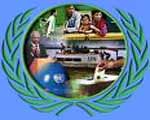 In one of the most prestigious international recognition in public service, a government programme aimed at empowering people in Nagaland has own the United Nations Award for Public Service Excellence from Asia and the Pacific region.
The Programme of Communitization of Public Institutions and Services, Nagaland has been proved to be a successful undertaking in providing access to quality services to the people with active community participation.
This government sponsored programme has considerably improved the delivery of public service in education, health and power distribution and has significantly contributed toward the UN Millennium Development Goals bringing a meaningful difference in the lives of ordinary people.
Through various innovative ways and community participation, Former Nagaland chief secretary Raghaw Sharan Pandey was instrumental in empowering people in the state of Nagaland in taking policy making decission about their developmental needs thereby improving transparency, accountability and responsiveness in the public service.
With the enactment of Nagaland Communitization of Public Institutions and Services Act, 2002, the scheme was initiated with proper legislative framework. The government had handed over the management of the work to the community and that has been successful so far in establishing responsive public administration.
Established in 2003, the award was to recognise and reward excellence and promote professionalism in the public sector around the world.
Other awardees for the year 2008 include Australia's Job Access; Brazil's Projeto Oficina-Escola de Artes e Ofícios de Santana de Parnaíba; Jordan's Family Planning; Rwanda's Common Development Fund; SADAD Payment System of Saudi Arabia; Singapore's Home Ownership Programme; South Africa's Transnet-Phelophepa Health Care Train; Spain's Directorate General for Citizen Participation; Sweden's Library 2007; Tunisia's Orientation universitaire en ligne; and Juvenile Delinquency Domestic Violence and Family Violence Court of the United States.
Honouring the winners of the 2008 UN public service awards the Deputy Secretary-General Asha-Rose Migiro said in a statement that such works would inspire governments around the world to step up their efforts to deliver vital basic services in improving the daily lives of their people.
"However, governments are facing a number of challenges, including the current food crisis, climate change and natural disasters, and are being challenged to do more with less and be more transparent and accountable," she further added.