Now Red Fort is under UNESCO's world heritage site list
New Delhi, Thu, 28 Jun 2007
Deepak Mohanty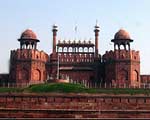 June 28: The Red Fort of Delhi also known as Lal Quila is one of the marvelous architectural examples of Mughal dynasty has been included in UNESCO's list of World Heritage Site. It is now among the 26 Indian sites that are under this heritage list and will be taken care by UNESCO from now.
The United Nation's Educational, Scientific, and Cultural Organisation (UNESCO) has today incorporated Red Fort as one of the four new cultural sites included in world heritage list. Australia's Sydney Opera House, Turkmenistan's Parthian Fortresses of Nisa and Iwami Ginzan Silver Mine of Japan are the other three to be awarded the status of heritage site. Apart from, the World Heritage Committee of UNESCO has marked two natural and one mixed in its heritage list.
The 17 th century complex Red Fort built of red sandstone was built by the 5 th Mughal Emperor Shahjahan and an excellent illustration of Muslim, Hindu and Persian architecture. With its architectural creativity the Red Fort reflects the glorious past of Mughal. It was the resident of Mughal ruler Shahjahan when he made Shahjahanabad as his new capital. Its palaces (Mahal), gardens, water canals remind us its former glory and luxurious lifestyle of Mughal era.
The historic monument was earlier nominated in the year 1993 but as it was occupied by the Indian Army at the very time, the UNESCO did not recognize it in its list.
This palace cum fort occupies a special place in Indian freedom struggle as it was the place where the last Mughal ruler Bahadur Shah Zafar took the lead of 1857 Revolution. The 1857 Sepoy Mutiny also considered as the First War of Independence certainly the prime part in Indian freedom struggle.
Till now it is under Archaeological Survey of India (ASI) who is taking care of this splendid site and conducting various beautification works in the complex that attracts hundred of tourists everyday. It is now the third World Heritage site in the capital after other two monuments Humayun's Tomb and Qutab Minar.
Other Indian sites that are part of World Heritage Site list are given below:
Agra Fort (1983), Ajanta Caves (1983), Ellora Caves (1983), Taj Mahal (1983), Group of Monuments at Mahabalipuram (1984), Sun Temple, Konârak (1984), Kaziranga National Park (1985), Keoladeo National Park (1985), Manas Wildlife Sanctuary (1985), Churches and Convents of Goa (1986), Fatehpur Sikri (1986), Group of Monuments at Hampi (1986), Khajuraho Group of Monuments (1986), Elephanta Caves (1987), Great Living Chola Temples (1987, 2004), Group of Monuments at Pattadakal (1987), Sundarbans National Park (1987), Nanda Devi and Valley of Flowers National Parks (1988, 2005), Buddhist Monuments at Sanchi (1989), Humayun's Tomb, Delhi (1993), Qutb Minar and its Monuments, Delhi (1993), Mountain Railways of India (1999, 2005), Mahabodhi Temple Complex at Bodh Gaya (2002), Rock Shelters of Bhimbetka (2003), Champaner-Pavagadh Archaeological Park (2004) and Chhatrapati Shivaji Terminus (2004).