Vote politics behind Gujjar protest
New Delhi, Mon, 26 May 2008
Deepak Mohanty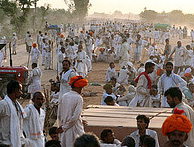 As the opposition in State and Centre are squarely blaming Raje government of Rajasthan for the current unrest over Gujjar demand for Scheduled Tribe status, 'vote-bank politics' can not be ruled out behind the past and present agitation. What the political parties are trying to do is to gain as much from the present strife that has so far claimed 35 lives and injured scores.
On one hand Rajasthan government first promised the Gujjar community to give them the status of Scheduled Tribes during assembly election to fill their vote-bank and now denying the same to appease the powerful Meena community, who are in opposition to Gujjar's change of status.
The government whether Center or State has certainly acted irresponsibly knowing the fact that any large scale unrest could pilot to a national crisis with the presence of Gujjars in different states with the same demand. Furthermore, without bringing the protestors to a roundtable the brutal police firing has paved the way to extra pressure.
The big question here is that what the government was doing since the last agitation-a similar one- and what the strategy they have made so far to reach to a conclusion?
Amid vote politics, our policy makers what indeed forget is the intensity of fire they are playing with. It's no more an issue of granting SC/ST status to a particular community, as a policy to deluge the discrepancies prevail in caste system, but the division of our society further with such narrow minded and self-seeking vision in governance.
With Supreme Court's firmness in granting reservation to OBC or barring the so-called creamy layer, it is obvious for such demands to crop up in near future seeking more secured SC/ST status to avail the special benefits.
Reservation in SC/ST is no further a social taboo, but now has become a privilege to be categorised under deprived section just to get hold of the benefits specified for the same. It's now a real trial for Indian political leadership in the course of wilful negligence and political ineptitude.
The fight for more recognised backward certainly alarms to bring a large-scale chaos in future, and political parties if continue to cultivate 'reservation' as a tool for their vote-bank in the name of social justice, would only lead the country to tough days to deal with; not for politician but for common masses.