Judiciary too accountable
New Delhi, Mon, 05 May 2008
Deepak Mohanty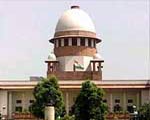 Transparency and accountability in the Judiciary has yet again come into the forefront with Chief Justice of India's argument that being a constitutional functionary his chair doesn't come under the category of 'public servant' and hence should be exempted from the Right to Information Act. Knowing RTI's binding in each constitutional functionary with duly obligation to provide all necessary information to the public. It would be a big set back if the top most body of judiciary seeks exemptions from the Act.
In a democracy everyone is accountable whether politician, judges or any other subjected to public service. Application of RTI in judiciary certainly augments its importance as a democratic body and with no questions on its independence. The head of constitutional post is also a part of public service and hence is accountable to public. Transparency and accountability are democracy's prime ingredients.
The Lok Sabha Speaker has rightly pointed out that RTI Act is applicable to those holding constitutional post like him and the CJI validating a transparent society in an environment of public accountability. He had also made it clear to publicize the details of MP's assets and liabilities disclosed to the Speaker's secretariat if required through the RTI Act.
The Parliamentary Standing Committee also advocated for the judiciary to come under the domain of RTI Act. While advocating RTI Act to be applicable to all the three wings of state- executive, legislature and judiciary as are accountable to the citizens of India, it said judiciary was more responsible to this right of citizen in the democratic government owing to its dual role of performing administrative function as well as judicial decision making.
From the point of view of judges whose functioning is already transparent as the proceedings take place in public court, but the applicability of RTI would further press on the reputation of judiciary in front of public. Disclosing judicial functions such as the appointments of judges in terms of their merits, selection process, and their discharge of duties and all other details pertaining to judicial functioning comes under public concern should be made public under this Act.
The Act had already made it obvious for elected representatives and members of executive as answerable to public in terms of declaring their antecedents, assets drawing every reason of higher judiciary to be similarly liable. In the absence of any institutional mechanism to bring transparency to judiciary, the RTI Act can be a relevant approach to make SC and High Court's functioning public. After all corruption doesn't rest with the post or department of the state rather it lies within the person or sometimes the circumstances which propel a person to be corrupt. The high judiciary post is not a guarantee in itself of being corruption free.