Bt cotton can kill farm animals; centre order probe
New Delhi, Mon, 18 Jun 2007
Sadiq Ali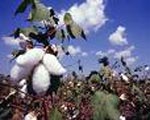 June 18: In a landmark decision Andhra Pradesh state government has advised farmers not to allow animals to graze on Bt cotton fields after presence of toxins was reported by some relevant institutes.
The advise, which can set a precedent regarding the use of genetically modified varieties of crops, came after reported deaths of animals and confirmation of nitrates and nitrites along with residues of organophosphates confirmed by top research institutes of the state.
Several domestic animals mainly goats and sheep grazing on post-harvest Bt cotton fields were found dead in Warangal and Adilabad districts of AP in 2006 and in the first two months of 2007.
State administration has informed the Union Ministry of Environment and Forests about its findings. Taking cognizance of the issue the ministry has ordered a probe.
The confirmation of toxins was made public after Andhra Pradesh Forensic Science Laboratory, the Indian Grassland and Fodder Research Institute, the Western Regional Disease Diagnostic Laboratory and the Department of Agriculture, N.G.Ranga Agriculture University found the presence of nitrates and nitrites, and residues of organophosphates in Bt cotton plants.
Andhra Pradesh has reiterated that bio-safety studies of Bt cotton seeds are yet to be conducted. AP was the first state to move the Monopolistic and Restrictive Trade Practices tribunal against the high price of Bt seeds.
Meanwhile, Mahyco-Monsanto Biotech India Ltd, makers of the genetically modified Bt cotton, maintained that safety studies were carried out before the trials and Bt seeds were found to be safe. A news agency quoted its managing director, M.K.Sharma, "Bt cotton is being grown in nine states, and no such complaint has come except from a few villages in Andhra Pradesh. We conducted safety studies before the trials and all Bt seeds were found to be safe."
The advise along with the ordered probe might give required fodder to the environmentalist who oppose the use of genetically modified varieties of crops because they are of the opinion that it is hazardous for the overall health of living beings. Studies conducted throughout the world have repeatedly confirmed some of the disadvantages of their use particularly those directly consumed by the human beings.