World Champion: Viswanathan Anand!
New Delhi, Thu, 30 Oct 2008
NI Wire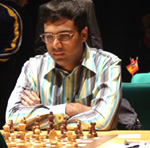 Grandmaster Viswanathan Anand's spectacular career in the game of chess festooned with another glory when he defended his title with a 6,5:4,5 victory over the Russian Vladimir Kramnik in the 12-game final in Bonn.
After losing the 10th match, Anand was quite determined to get the half point in game eleven of the Championship. After three hours and 24 moves the end came beautifully with a draw and Anand's triumph of world title for the third time.
With this win, he became the first person in chess history to win the World Championship in all formats of the game. The 128-player FIDE Championship in 2000, the closed tournament format in Linares-Morelia in 2007 and now the Matchplay against Kramnik, which spell the most for his success as one of the greatest sportsmen India has ever produced.
At the early age of 14, when he won the National Sub-Junior Chess Championship in 1983 followed by International Master's Title a year later, the man by now had made known the signs of the undisputed chess champion of the world.
'Vishy'- as he popularly known among friends and fans, is now one of four chess grandmasters in the history to go ahead the 2800 mark on the FIDE rating list. Anand dominated the rating list from April 2007 to July 2008, but dropped for the first time from world top 3 in October this year.
"Viswanathan Anand defended brilliantly his Title as World Champion. I was amazed by his performance. He proved his vast knowledge of the game, confirmed his fighting spirit, demonstrated his ability to defend in difficult positions, showed that skill and talent are tied with long and tiring preparations and that success does not come out of chance," said President of Fide Mr. KIrsan Illyumzhinov in a press statement.