Tendulkar bowed out from Olympic torch relay
New Delhi, Wed, 16 Apr 2008
NI Wire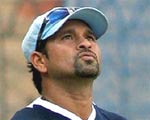 The preparation for the torch relay of the Beijing Olympics suffered a major set back here on Wednesday when cricket maestro Sachin Tendulkar lately refused to join the relay due to personal causes.
He became the latest celebrity to pull out its name from the torch relay. However, the Indian Olympic Association (IOA) has yet to make an official announcement for the final list of runners in the torch relay scheduled to take place on Thursday in the capital.
IOA president Suresh Kalmadi however said media persons that he had not received any communication from Sachin regarding the same.
The Beijing Olympics and the ritual of torch relay across the world have been witnessing pro-Tibet protest, who are voicing for their right of autonomy from Chinese rule.
Earlier Indian national football team captain Baichung Bhutia and India's first woman IPS officer Mrs Kiran Bedi had bowed out from their participation in New Delhi torch relay. While Baichung openly expressed his solidarity to Tibet cause Mrs Bedi "scuffing" security arrangement for her non-participation.
As far as Sachin's refusal is concerned it might be his growing injury as the Indian Primer Leagues (IPL) matches are on the cards starting from April 18.
It is not only in India but people across the world, are protesting against China's repression in Tibet and top names boycott to the event whether sporting personalities or film stars sent a message to the Chinese regime that their inhumane act is no way acceptable to the world. After all every country is a reflection of its citizens.