A memoir of Balian - "Once Upon a Time in Iraq"
New Delhi, Sat, 05 Apr 2008
NI Wire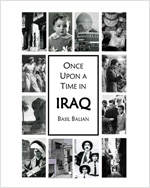 Once Upon a Time in Iraq, written by Basil Balian is a memoir set in one of the cradle of oldest civilisation, Iraq formerly known as Mesopotamia.
Through this book, the author has served a different picture of Iraq which very few people know. Balian spins the story of his childhood days in Iraq, when life was easy and lively.
The story of life with its part of comedy and tragedy, yes! it did happen in Iraq before Saddam period. The author who after his brief association with Iraq departed to America and stayed there since 50 long years has been able to strike a balance between both the cultures through his book.
He has tried to sketch a connection between two cultures which are widely different but are now fatefully related.
His personal account of the Kurds in Khanaqin, near the Iranian border, as the son of a British Petroleum Company executive, his adolescent and young adult years in Baghdad and as a student at the American Jesuit high school, Baghdad College, leaves a story of desolation which has engulfed these places which once stood tall in the rich culture and tradition, where people lived in harmony, where life was giving and Iraq was progressing day by day.
Now, the same history is turned into debris and war is the most happening thing there. Balian who penned this book after his friend suggested him, he said, "came from friends and acquaintances who seemed interested in what I had to say about the Iraqis after our involvement in Iraq. They thought what I had to say needed telling."
"Iraq was going through relatively normal times during the decades that I write about. Iraq was pro-West at that time. There was an underlying strong nationalistic sentiment among the middle-class and educated masses to be independent but the main outside influence was a western influence. Indications are that history is about to repeat itself. Maybe there are lessons to be learned this time," he added.
"I believe the failure of the West in the past was that they did not take enough time to understand the Iraqi culture. I hope it will be different this time, and I hope this book will be helpful," he sounded hopeful.
Balian, is now a resident of Cincinnati, US, has done a commendable narrating of his time in Iraq, its devastation and then the hope to retract back on the same path which was his child hood Iraq.
The 250-page book is available only from www.Lulu.com as an e-book for $6.50 or $16.50 for a paperback copy. To view a preview of the book, go to the website and type "Balian" in the Search button.