World Anaesthesia Day to be celebrated on Oct 16
Guwahati, Wed, 15 Oct 2008
NI Wire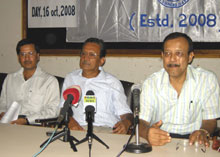 The World Anaesthesia Day-2008 will be celebrated in Assam on October 16 under the banner of Indian Society of Anaesthesiologists (Guwahati city branch). Addressing media persons at Guwahati Press Club today, the office bearers of ISA (Guwahati city branch) declared that this day is a very auspicious day for all the members of anaesthesiology fraternity as it is considered to be the birthday of Anaesthesia.
"On this day in the year 1846 the possibility of performance of painless surgery was accepted by the world," they said. The Anaesthesia day has been celebrated in the State for many years but this year's celebrations carry special importance as the ISA had recognised the Guwahati city branch recently, revealed the office bearers.
William Thomas Green Morton, a student of Boston medical school publicly demonstrated successful administration of Ether Anaesthesia for removal of a neck tumour of Gilbert Abhot in the amphitheatre of Massachusetts general hospital. The performing surgeon was Dr Warren. Dr Warren was so overwhelmed by the event that after the surgery he commented 'Gentlemen, this is no humbug'. The use of Ether spread rapidly to England and other parts of the world. Ether was closely followed by another very popular Anaesthesia as Chloroform.
Like in other parts of the country, the Anaesthesiology has been developed significantly in Assam too since 1980s. Almost all the ICUs of Assam are managed by anaesthesiologists efficiently. The only palliative care society of the region- Guwahati Pain & Palliative Care Society is headed by an anaesthesiologist, disclosed Dr A. Deka, a senior anaesthesiologist and an office bearer of the body.
Attending the interaction, Dr J. Bhattacharya, another senior anaesthesiologist, informed that the Assam Medical College & Gauhati Medical Collage have post graduate studies in Anaesthesiology. He also added, "From the current year Silchar Medical Collage has started its course. But there are only 12 post graduate M.D. seats and 10 Diploma seats in the State which is very meagre as we have severe shortage of qualified anaesthesiologists in the region."
"On this 162nd year celebration of world Anaesthesia, we on behalf of Guwahati city branch of ISA would like to appeal to the concerned authority to create more post-graduate seats for Anaesthesiology, so that all the hospitals of the state can be manned by qualified anaesthesiologists," argued Dr Siben Datta, an anaesthesiologist associated with the Down Town Hospital, a city based private nursing home.
Image Details: the press conference of Indian Society of Anaesthesiologists (Guwahati city branch) at Guwahati Press Club progresses