Digambar Kamat as the new CM of Goa
New Delhi, Fri, 08 Jun 2007
Nadeem Bhat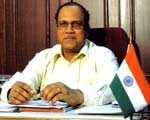 June 08: AICC General Secretary, who is in charge of party affairs in Goa, told reporters after the meeting in Panaji that Digambar Kamat will be the new Chief Minister of Goa. Digambar Kamat was unanimously elected as the leader of Congress Legislature Party and the new CM.
The late night CLP meeting, which lasted for more than two hours, came after AICC observers Sushil Kumar Shinde and Margaret Alva held nearly four hours of talks with the party MLAs during the day. Later in the evening, Shinde had a meeting with Rane.
The 54-year-old Kamat brings with him a wealth of experience as an efficient administrator and an incisive politician. Kamat, who serves as the Power Minister in the present Congress government, has had a major part of his political career in BJP and joined Congress just two years ago. In 2005 he turned the tables on BJP and played a crucial role in the decline of Manohar Parikkar's BJP.
Besides power, Kamat has also headed portfolios like Urban Development and Mines, Town and Country Planning.
Congress MLAs had a divided opinion for announcing the new Chief Minister. Finally Kamat's name came up, leaving the two other prime contenders in state party chief Ravi Naik and Pratapsinh Rane , who was there for the another run.
However, sharp differences surfaced among the 16 legislators who saw him emerging as the dark horse and nailing the other two main contenders.
When it became clear that Kamat will be the new Chief Minister, supporters of Naik shouted slogans against the Congress high command at the venue of the CLP meeting.
NCP, a coalition partner of Congress, said the new ministry is likely to be sworn-in with the allies meeting Governor S.C.Jamir and staking their claim to form the government.
Digambar Kamat is credited with the development of Margao, his constituency; especially the areas he stream lined were electricity, drinking water and road sectors. He also managed to turn the state electricity board into a profit-making unit at a time when such bodies in other states down and out with huge losses.
Kamat's skill as a politician has no doubts; he earned the image of an efficient administrator when he was the Power Minister of the state for three consecutive terms. And the way he engineered the downfall of BJP by triggering revolt among allies of BJP against Parikkar speak volumes about his versatility. Now it is the time for him to deliver while being at the helm of affairs.