A new bold Team India, its different
New Delhi, Wed, 05 Mar 2008
M Shamsur Rabb Khan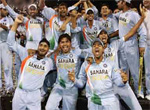 Never before in the history of cricket had Australian team looked so vincible, exposed and tamed as it was in the two finals of Commonwealth Bank series. Also, never before they were defeated in two back-to-back matches on their home ground.
Team India crushed the Aussies in literally all the departments of the game be it batting, bowling and fielding and of course the strategic captaincy. Understably, there was palpable difference of body languages between the two teams: the victorious was in the pool of joy while the vanquished loathed with burden of agony. This new bold Team India is really different.
So, what made the difference?
Well, in Sydney and Brisbane India was a marked different. It was added by, no doubt, two young prodigies – Ishant Sharma and Parveen Kumar – who made all the difference. Sachin was at his best, leading from the front. The master blaster was calm but solid like a rock, as he overpowered every Australian attack. So were Rohit Sharma and MS Dhoni.
Harbhajan Singh and Pathan contributed to their abilities at times when required. Young Chawla bowled magnificently and took two brilliant catches to seal the fate of the Aussies in the second final.
I have been watching Ponting since he started his career, and I could never saw him so nervous and vulnerable against Ishant and Parveen. No move of his went right. In Brisbane, Ponting played a shot, which can only be played by a batsman who feels nervous of a bowler.
Full marks to these two young lads, who can be formidable pace attacks in future. Ishant has pace and lift that can scare any batsman in the world. And full marks to the team effort that Team India could put up before the so-called mighty Aussies. Neither was Michael Clarke looked so confident against Indian attack.
Next but the all-important aspect has been the team effort that we see these days whereby every individual tries to play for the team, rather than self. This is the one mantra that MS Dhoni has perhaps been able to motivate his mates with. Though young in age, he seems much mature in strategic temperament and leadership skills.
Another element of victorious Team India that stood out has been their aggressiveness and hunger to win. Unlike yonder days, when we used to submit to the dictates of the fiery bowling or compact batting of the opponent, these young cricketers have learned to fight back till the end. Unlike tailenders of yonder days, this generation of young talent never gives up. It is this quality that helped Indian Team defeat Aussies in their own backyard.
No commentator, either from India or Australia could stop showering praise to the young Indian side led by motivated MS Dhoni. Not even an iota of belief that we had when the Commonwealth Bank series started that we could repeat the Benson & Hedges World Championship win that India posted under Sunil Gavaskar's captaincy way back in 1985. Then it was Ravi Shastri, who became the Champions of Champion. This time it is the entire team that has become Champions of Champion.
This victory came amidst the on-and-off pitch controversies that dogged the Indian team's tour to Australia, albeit the bat and the ball finally decided the matters in India's favour.
Victory on foreign soils has always been hard nut to crack, but this team has broken this myth as well. This victory becomes all the more important as it sans big names except Sachin and Yuvraj. With the kind of pay package that IPL has announced recently, we will see more and more such sensational wins by Team India in coming days.
E-mail Author: The writer of this article M Shamsur Rabb Khan is currently serving as the Editor, Consumer Unity & Trust Society or CUTS, India. He can be reached at samsur.khan@gmail.com