Delhi Study Group raises deep concern about rural areas of Delhi
New Delhi, Fri, 23 Dec 2011
Noor En Ahmed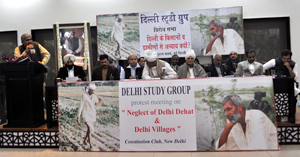 Delhi Study Group (DSG), a Delhi based Non-Government Organization (NGOs) on Thursday expressed its deep concern over the total negligence of Delhi & Delhi Villagers by the present state government.
In a seminar over 'Neglect of Delhi Dehat & Delhi Villagers' organized by DSG, the NGO has asked the state government to provide relief for Delhi Villagers from committing suicides by giving relaxation in the new Master Plan.
It demanded to scrap Sec 81 & 33 of Delhi Land Reform Act 1954 immediately, as using this act, government acquires the land of the villagers and grant nominal compensation only.
'While government should give a person of the dislocated family a government job,' asked founder and President of DSG Vijay Jolly.
He assured that DGS members would meet to Union Minister for Urban Development Kamal Nath and asked him to fulfill his pledged what he has done earlier regarding new building law from the government and regularizing the extended 'Lal Dora' areas.
He also stressed on promoting Private & Public planned housing projects in the rural areas too.
Equally targeting to Delhi government and Municipal Corporation of Delhi (MCD) Jolly criticized the demolition work done by MCD in Bawana and Narela areas.
The other prominent leaders who attended the seminar are: Pravesh Verma, son of late Sahib Singh Verma & Vice President of Delhi Study Group, Kulwant Rana (MLA, Rithala), Praduymn Rajput (MLA, Dwarka), Chaoudhary Dharam Dev Solanki (MLA Palam), Choudhary Satprakash Rana (MLA,Vasant Kunj), Choudhary Manoj Shoukeen (MLA, Mundaka), Choudhary Ram Karan Singh (Pradhan 365 Gaon Delhi Panchyat) and Bramh Singh Tanwar (Ex-MLA, Mehrauli).