Chikni Chameli - catching up the chartbuster
Mumbai, Tue, 20 Dec 2011
Deepak Kumar Mohanty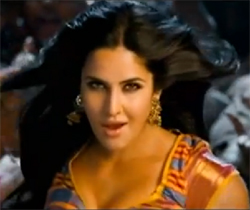 Being just another music lover irrespective of the language of the lyrics, the moment I first heard the just-released Chikni Chameli from the upcoming Bollywood flick Agneepath, I found I have heard this before!
Yes, as far as the tune is concerned, this song is a mirror image of the Marathi hit Kombadi Palali (from movie Jatra!). Luckily no plagiarism this time, as it came from the list of same music director duo Atul and Ajay Gogavale.
Recently, Karan Johar Dharma Productions has released the trailer of the music video and I can say this is catching of the chartbuster. Katrina Kaif sizzles as Chikni Chameli with her Marathi fisherwoman outfit.
Shreya Ghosal has sung it in her signature soft style and the very known Ganesh Acharya has choreographed some clever dance moves. The music director in one of their interview had told that Chikni Chameli was not a lavani songs for which they were known, rather this was something of a different league.
Many of us might not like this, and some of us may even start comparing Katrina's earlier item number 'Sheila Ki Jawani', nevertheless Chikni Chameli seems to have building its own fan base. Katrina's scintillating dance number with her desi hip moves has successfully allured the music lover.
Agneepath, which features some of the finest actors of Bollywood including Hrithik Roshan, Priyanka Chopra, Sanjay Dutt and Rishi Kapoor, is slated for theatrical release on January 26th.
What twitterati says
While @Neelanjana_B tweets, "Katrina is really trying hard with those expressions #ChikniChameli but I'm gonna say #fail", @chit1 (Chitwan Prabhakar) tweets: #Agneepath songs playing on the loop. Finally marathis have time to celebrate, #chiknichameli made their regional song popular.