India to take on Afghanistan in SAFF Cup Final on Sunday
New Delhi, Sat, 10 Dec 2011
Noor En Ahmed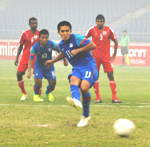 The defending champion and host India will take on first time entrant in the final Afghanistan in the South Asian Football Federation (SAFF) Cup ? 2011 final at 6:00 p.m. in Jawaharlal Nehru Stadium, New Delhi on Sunday.
India defeated last runner up Maldives by 3-1 in the first semi final while Afghanistan defeated Nepal by 1-0 in second semi-final held on Friday evening. Both the final entrants are from Group A and played a draw match with 1-1 in the league.
India (162nd FIFA ranked) is considering the most favourite in the tournament due to its current performance, better history and domestic environment but Afghanistan (178th FIFA ranking) has played excellent game in the tournament and scored highest goals so far.
In the first semi-final, India's star striker Sunil Chhetri's double strike and Syed Rahim Nabi?s account opening goal lead India to secure the berth in the final. Syed Nabi struck first goal for India in the 25th minute of the game after Jeje Lalpekhlua's effort to make the goal was failed by the rival goal keeper Imran Mohammed. Jeje tried to hit the ball in the net through header but Imran acrobatically saved it and match referee gave a free-hit. India's Clifford Miranda struck the free-hit that was volleyed by Nabi and ball entered in the net.
The Maldives players tried to make several moves after that but failed every time in the first half. The first half ended with India's leading score 1-0.
In the second half, the game changed completely and India dominated most of the time, but in the 14th minute of the second half, Maldives's striker Shamweel Qasim kicked the goal directly in the net and celebration began in the Maldives's bench.
But, this celebration did not continued for long time, as India got a chance of penalty stroke in the 68th minute of the game and Sunil Chhetri did no mistake and lead India 2-1.
Sunil struck again and kicked his second goal in the injury time. His 91st minute goal secured India's position in the final with great confidence. Sunil was declared 'Man of the Match' fourth time in a row.
The second semi-final was very close and Afghanistan could manage to win the match by Balal Arezo's goal struck in the 101st minute of the match in extra time. Nepal (143rd FIFA ranked) played well and gave stiff competition to below ranked Afghanistan and match ended without a goal.
A couple of 15-minute extra time was given to occur the result. Afghanistan despite fatigue and more injury managed to win the game by 1-0.
Balal Arezo won the 'Man of the Match' medal.