SAFF Cup: Maldives quite confident to take on India in first semi
New Delhi, Thu, 08 Dec 2011
Noor En Ahmed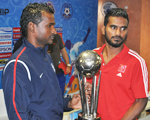 Despite winning just one match out of three league matches, Maldives is quite confident to beat five time South Asian Football Federation (SAFF) Cup Champion India in first semi-final scheduled on Friday (09th December) at 03:00 p.m..
"We just don't care as to who we will be playing in the semis. We are ready for any team," said Maldives' Hungarian Coach Istvan Bela Urbanyi in a press conference held on the eve of semi-final at Jawahalal Nehru Stadium.
This statement came due to excellent performance of the team, who topped the Group B. Maldives won one match and played draw two. It kicked four goals and got only 2.
However, no team is absolutely sure to win the title as they belief that it depends upon the particular day and team's performance on that day.
However, on the surface of India, it is a strong chance that India can defeat their counterparts in the semis. India's performance has rises gradually as the team played more games. India could secure second position followed by Afghanistan in Group A.
Asking over the chances of India's victory in semi, Indian coach Savio Mediera remarked a balanced comment. "Maldives is a good team and have some good players," Mediera said.
"This bunch from Maldives are more organised than the one we played in July in an International Friendly," he added.
Asking over the strategy to stop Ali Ashfaq, the key player of Maldives and captain, Indian coach said that Football is a team game and all the players would have to perform well.
However, India has more options after availability of Sameer Naik in the XI squad. Steven Dias, Lalrindika Ralte and Jewel Raja have played no match except sitting on the bench that could lead the headache of the coach.
Sunil Chhetri and Ali Ashfaq will be the attractions of the match who are the star players of their team.
Afghanistan is looking the one of the strongest contestant in the tournament and has performed exceedingly well in the league matches. Afghanistan team has kicked highest numbers of goal (12) averaging 4 in each matches and got only three. However this number went high due to Afghanistan's last match against Bhutan (8-1).
Afghanistan won two matches and a draw in three league matches and collected 7 points while Nepal won one match and played two draws.
Afghanistan's Belal Arezo (Afghanistan) have booted highest 5 goals followed by India's Sunil Chhetri (4).
Nepal has booted just three goals and got two while Afghanistan has got three goals.
The second semi-final will be kicked on same day at 6:00 p.m.