Language politics, a lust to power
New Delhi, Fri, 22 Feb 2008
Binita Tiwari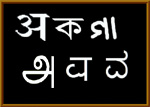 Voices have started echoing from the rumbles which were made to sleep some decades ago, no one knew that an agitation over a language could be a bloody one but it happened in Tamil Nadu against Hindi after it became the sole national language of India in 1965.
It is explained as the repugnance which took many lives was against Anti Hindi opposition and not against Hindi language but this is also true that till now the matter continues to be thin skinned even after 58 years of independence and seems more against language than its imposition.
Annadurai the one who led the crusade against Anti Hindi imposition said "It is claimed that Hindi should be common language because it is spoken by the majority. Why should we then claim the tiger as our national animal instead of the rat which is so much more numerous? Or the peacock as our national bird when the crow is ubiquitous?"
However Lal Bahadur Shastri could measure the gravity of the matter and gave freedom to State to continue to transact its own business in the language of its own choice, which may be the regional language or English.
Many other leaders were unsatisfied with Hindi being made compulsory in Tamil Nadu but Moraji Desai in a press conference said that by learning Hindi the Tamil people would only increase their influence within India as a whole.
After Raj Thackeray rolled up his sleeve against the migrant workers of Bihar and UP, Bal Thackeray is up against partial introduction of Hindi in administration of the Mumbai Municipal Corporation.
Bal Thackeray reacted after the Leader of Opposition Rajhans Singh demanded that Hindi should be allowed to be used in corporation to help non Marathi leaders at least in notices and circulars. Thackeray wrote in an editorial in Saamna while retorting to the demand, "This will not happen, no and we mean no."
Thackeray's impulsive retaliation that the leader demanding Hindi should be arrested and prosecuted criminally shows his ire and prejudices against the language not its usage and the perceived error that Hindi is a language of North Indians.
Let's justify his anger against Hindi; let's justify his anger against Muslims, South Indians and Biharis and UPites; let's justify that he is really concern about Marathi manoos and Bhoomiputras prides but the way these Thackerays are using the word and Bihari and Hindi shows that a Bihari is not human and use of Hindi will take away their custom and tradition; it is indeed ridiculous.
Lalu Prasad Yadav, who is more responsible for the plight of people of Bihar then anybody else, has yet again tried to make the whole thing murkier after announcing that he will perform Chat Puja in Mumbai like Abu Azmi whose rhetoric cost workers their bread and butter as it is the poor people who suffer the wrath of such political infighting.
The senior Thackeray wrote "Lalu, who has turned Bihar into a hell, should hold a mela of Biharis in Tamil Nadu to champion the cause of North Indians there," while suggesting him to perform Chath Puja at Marina Beach in Chennai to oppose Tamil Nadu government's proposal to make Tamil compulsory in schools.
If I have to categorize these leaders, I will keep in the category of demagogues' who play with the voter's emotion to woo them by making emotional statement while showing their prejudices.
The fact that howsoever we claim of being educated the pluralistic societies have only been acknowledged in our constitution and plethora of books, we are born prejudiced, we have been taught to preserve the notion that we are superior to others. But are we not sitting above a mouth of volcano which is dormant but not extinct….yes! It can erupt any time.