India International Trade Fair 2011 begins today
New Delhi, Mon, 14 Nov 2011
NI Wire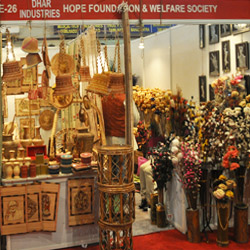 The 31st India International Trade Fair 2011 (IITF) opened today at Pragati Maidan, New Delhi. Finance Minister Pranab Mukherjee inaugurated this one of the leading trade fairs in the world that will be held from November 14 to 27. This fair provides a platform to exhibit a slew of goods and services for visitors and businesses. A host of products on technology and enterprise are on display to benefit industries and common man. The fair has a host of products for business-to-business and business to customer segments. Right from products of artisans and Indian handicrafts to products of MNC's there is a variety of products to enthrall your senses. The fair offers something to everyone who visits this fair. The theme of the fair is 'Indian Handicrafts - The Magic of Gifted Hands.' The fair is a good place to catch a glimpse of handicraft and cuisines of different Indian states. The partner states this year are Jhakhand and West Bengal.
Business visitor can have access to the fair from November 14, today, while it will be thrown open to the general public from November 19. This year overseas countries participating in the fair are Afghanistan, Armenia, Azerbaijan, Bangladesh, Belarus, Canada, China, Cuba, Iran, Kazakhstan, Kyrgyz Republic, Pakistan, South Africa, Thailand, Uzbekistan and Venezuela.

To efficiently catering to the huge rush of visitors Delhi police and metro have made elaborate arrangements around 15 lakh visitors are expected to visit the fair. Delhi police has installed 109 CCTV cameras and 28 observation towers for the security of visitors. To beef up the security more than 1000 personals of Delhi Police and Para military forces have been deployed. As a large number of visitors use metro to reach Pragati Maidan and hence tickets will be made available at all metro stations in Delhi including Pragati Maidan and Airport Expressway.