Anna's fast: A paradigm shift on corruption
New Delhi, Mon, 29 Aug 2011
NI Wire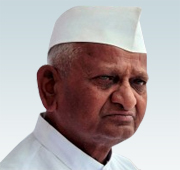 New Delhi: India's lackadaisical attitude towards corruption had become a way of life until 74-year-old Anna Hazare decided to take the bull by the horns and that too in a non-violent way. With his near two weeks protest in Delhi he brought a change that was need of the hour. More than getting a nod for competent law to fight the menace of corruption, he changed the mind of Indians, inspiring them to stand up for a noble cause.
Needless to say, people from all the socio-economic and cultural background rallied behind him as they found a platform to voice their opinions- that are seldom heard – in Anna Hazare's fast against corruption. The movement got support from different corners of India. Students, farmers, artisans and all other sections of society joined hand to root out the menace of corruptions, as most of them were victims of corruptions on one or another stage in their life.
This 13-day fast, that concluded on Sunday become a portrayal of people anger towards corruption and government bowed down to the popular opinion. Several took pledge that they won't give or take bribe and not allow others to do so. People shared their day-to-day encounters with corruption. A MCD employee said that he wouldn't allow anyone in his office to take bribe and it is a sea change from " it is okay" approach. As a large number of youth were part of the campaign, they shared their experience and made pledge to not to indulge into the corrupt practices.
Some of the senior officials of the Delhi Police were also sympathetic towards movement. A senior police official on the promise of anonymity said: "It's very encouraging to see people coming in large numbers for an anti-corruption movement. But it would be commendable to see if only half of them actually start following the path of truth. Corruption affecting the common man can be removed to a great extent if people themselves start refusing giving and taking bribes."
Before Hazare broke his fast, Arvind Kejriwal his aide, asked the people at Ramlila Maidan to take pledge of renouncing the menace of corruption. Actor Aamir Khan, who had visited the venue earlier, had also asked people to check the evil of corruption.
The Lokpal may take some months to come, but if people follow the path shown by Anna, it will be great change for Indian society.