Google release update for TensorFlow 2.0, TensorFlow 2.0.0-rc0 pre-release come with many new features
New Delhi, Tue, 03 Dec 2019
NI Wire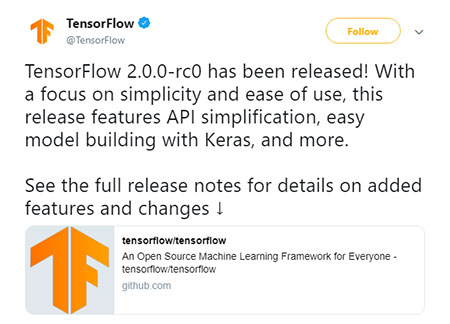 TensorFlow 2.0 update released with new features and updates. TensorFlow 2.0.0-rc0 comes with the strong model deployment in production.
Google TensorFlow 2.0 team announced the release of next update which is supporting strong deployment of model in the production environment. TensorFlow 2.0.0 latest updated released is TensorFlow 2.0.0-rc0. New update code is available for immediate download from the official site, but still pip installer is not available. Once Google releases the pip installer, developers will be able to install with the pip installer.
Google announces this pre-release by posting a message on its official Twitter account. Post says "TensorFlow 2.0.0-rc0 has been released! With a focus on simplicity and ease of use, this release features API simplification, easy model building with Keras, and more. See the full release notes for details on added features and changes"
Google has released the pre-release version of TensorFlow 2.0.0-rc0 on GitHub. According to the release note TensorFlow 2.0.0-rc0 update comes with the following main updates:
* TensorFlow 2.0.0-rc0 comes with the easy modeling with Keras and eager execution support.
* This update of TensorFlow comes with the support for Strong model deployment in production on any platform.
* TensorFlow update provides features for powerful research experiments.
* This version is further simplifying the TensorFlow API by reducing duplication. This update also removes the deprecated endpoints.
Currently TensorFlow 2.0.0 is the current version of TensorFlow machine learning library and it is designed to simplify development of machine learning program easier. Researchers and data scientist is using TensorFlow 2.0.0 for quickly prototyping their model. Currently TensorFlow is one of the most popular machine learning libraries.
TensorFlow is an open source deep learning and mathematical computation framework created by Google. This framework is used to develop machine learning and deep learning models. It provides a variety of classes, support for training and deploying large-scale neural networks on variety of computational hardware. Model developed in TensorFlow can be deployed on CPU, GPUs, TPU, mobile and Edge nodes. TensorFlow comes with the libraries for powerful analysis of data. TensorFlow was originally written by Google engineers. Google has actively worked to support and develop the community.
Ads: Do you want to learn TensorFlow 2.0? Check training course at TensorFlow 2.0 Course – Get training in Tensorflow 2.0 online.