SC pronounces verdict in Ayodhya case - Hindus to get disputed land for construction of Ram Temple
New Delhi, Sat, 09 Nov 2019
Deepak Kumar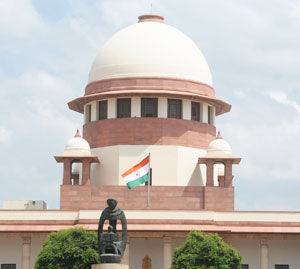 Supreme Court today pronounces historical verdict in Ayodhya case which was pending for last 70 years in Independence India and 90 years in British rule. This verdict of Supreme Court is a historical verdict as it was pending for many generations. Finally Hindus get the entire 2.77-acre disputed land for the construction of Lord Ram temple.
The apex court today on Saturday pronounced its verdict in 1,045 page judgment. As the per the verdict entire 2.77-acre disputed land is given to the Hindus while 5 acre of alternate land to be given to Sunni Waqf Board either by the Central Government or the State Government. SC verdict gives the liberty to Sunni Waqf Board to construct Masjid in the land.
A constitution Bench case comprised of Chief Justice Gogoi, Justices S.A. Bobde, D.Y. Chandrachud, Ashok Bhushan and S. Abdul Nazee; and led by Chief Justice of India Ranjan Gogoi pronounced the historical judgement.
According to the various religious text books of Hindus, the Birth Place of Lord Ram is religious importance for Hindus. This judgement paves the way for the construction of Ram Temple at the said site.
SC asked Center to constitute the trust in three months and hand over the work of construction of temple with terms. As per the SC verdict, Nirmohi Akhara could be given representation in the trust. The Nirmohi Akhara is one of the three litigants in the case.
The Supreme Court claimed that the disputed site is the birthplace of Lord Ram and faith of the Hindus in Lord Ram could not the disputed. The reports from Archaeological Survey of India were also examined by the Court, which proves the presence of a temple at the disputed site.