Pad Man to be release in India on 9 February 2018
New Delhi, Sun, 04 Feb 2018
NI Wire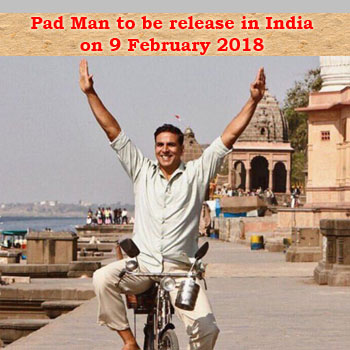 Much awaited Akshay Kumar's Pad Man movie is releasing in box offices on 9 February 2018. A long wait for this movie is getting over next week as it is coming into box offices on 9 February in India. This is Akshay Kumar's movie which is completely dedicated for a cause mainly for ladies and girls. The movie is widely appreciated by people for its subject which is spreading message about the period issued for the girls and its hygienic need.
Akshay Kumar is known for his movie with the social cause which has created much awareness among the people. Recently he has made movie "Toilet; A love story "and the movie was widely appreciated by the people for its cause.
In the same way, this time Akshay Kumar has made the movie Pad Man which is also for the genuine and important subject related to girls and women.
Needless to say, the issue of pad is an important issue and it required much attention for its hygiene and safely issues. And if the actor Akshay Kumar has made and acted in the movie, certainly it will create much attention to the people.
The issue of ladies and their period is common among them but unfortunately it has been treated much neglected by the people. Due to illiteracy and a socially backwardness, the issue has become a stigma among the ladies.
Even girls are advised for not to sharing the issued to the other if the reach in the age of adolescence and puberty. Even old ladies in the family treat them like be neglected and not to take part in the social gathering due to this issue.
Certainly the movie Pad Man is going to play crucial role for the cause and people will appreciate the movie. The movie is all set to release on 09 February 2018 and expecting the people will appreciate the same.
Casts of the Movie:
Akshay Kumar
Sonam Kapoor
Radhika Apte
Check all Upcoming Bollywood movies in February 2018.