PAN-India Awareness Campaign reaches out to nearly 28 lakh students in the country
New Delhi, Sat, 16 Sep 2017
NI Wire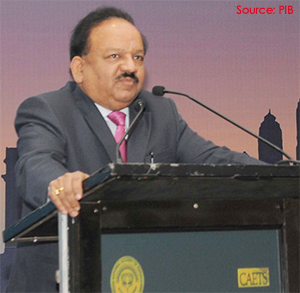 30th Anniversary of Montreal protocol and 23rd World Ozone Day Celebrated
Highlighting the strength of the active collaboration between the government, industries and all stakeholders in the implementation of Ozone Depleting Substances (ODS) phase-out programme in the country, Union Minister of Environment, Forest and Climate Change, Dr. Harsh Vardhan highlighted the importance of individual awareness and the strength of collective action. The Minister also laid special emphasis on the role played by children in ensuring the success of such campaigns.
Addressing a gathering at the celebrations of the 30th anniversary of the Montreal Protocol and 23rd World Ozone Day here today, with the theme - "Caring for all life under the Sun", the Minister made a special mention of the pan-India awareness campaign launched by the Environment Ministry on the occasion.
This campaign was among the most widespread engagements of the Ministry for awareness generation, carried out with the active partnership of States through schools and academic/research institutions spread across the country. The awareness campaign saw a participation of about 28 lakh students in more than 13, 000 schools and reached out to 214 districts across 16 states of the country.
The Minister also spoke of the strong policy leadership given by India during the negotiations for the Kigali Amendment to the Montreal Protocol. Dr. Harsh Vardhan said that it is recognized that India played a crucial role in the adoption of the Kigali Amendment to the Montreal Protocol.
A series of publications launched by the Minister on the occasion include – a handbook on HCFC Phase-out and Energy Efficiency in Buildings; the first edition of 'newsTRAC; and a newsletter for service technicians in Refrigeration and Air-conditioning (RAC) sector.
These two publications were launched as part of the enabling component of India's HCFC Phase out Management Plan, for which United Nations Environment Programme is the cooperating agency and Energy Efficiency Services Ltd. and The Energy and Resources Institute (TERI) are the national implementing partners.
Two videos on India's achievements in implementation of Montreal Protocol and HCFCs phase-out and Energy Efficiency in buildings were also launched.
Source: PIB