Android Nougat Beta ended - Android O beta coming soon
New Delhi, Wed, 10 May 2017
NI Wire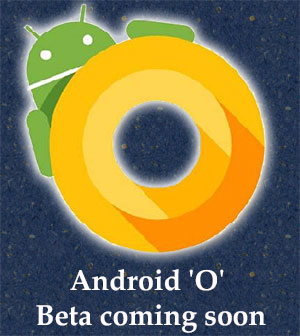 Google is coming up with next version of Android O, in the favor Android O Google ended Android Nougat Beta program. After the closing of Android Nougat Beta program Google will soon come with the beta of its next version of Android operation system, the Android O.
Developers can join this program to test the features and take part in the Android O develop program.
Google is going to release the beta program for Android O ahead of its I/O 2017 developer conference. Android beta websites will be updated once this program is available. With the release of Android O beta program the programming for this will begin. Developer and uses of the Android phones can take part the in beta program to test this new operating system.
This website will provide OTA images of the OS for certain Android devices.
Android Nougat beta ends with the statement from Google website, "Thank you for your interest in the Android Beta Programme. The beta for Android Nougat has concluded, and all devices that were opted in have been updated to the current public version, If you are still running a beta version of Nougat you may download the latest full OTA image for your device and sideload it. This will not wipe your device. We'll update this site when the Android O Beta Programme begins."
As a part of the Android O beta program uses of this program will get the access to the latest features available in Android O. You will be able to try new build and see its features. You will be able to find the bugs in the system and report it.
Android O features
Android O expected to come with many new and updated features. This will be expected to be released in late March for Nexus 5X, Nexus 6P, Nexus Player, Pixel and Pixel XL mobile phones.
This OS will bring tighter control on the background limits for apps. This will increase the battery life. This will also come with the Notification Channels, and Adaptive Icons.
Android O expected features:
Support for Autofill app
Native picture-in-picture mode
Notification Channels
Adaptive Icons
Wide-gamut colour for apps
High-resolution audio
Improved keyboard navigation
faster Android runtime
In the coming days we will be able to see all the features of the Android O operating system. It seems to come with features of enhance productivity and usefulness of the mobile phone.