Swara Bhaskar promoted 'Anaarkali of Aarah' with director Avinash Das in Delhi!
Bollywood, Tue, 21 Mar 2017
NI Wire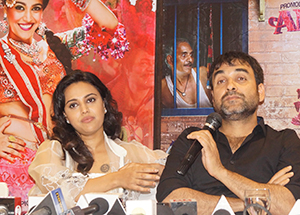 Swara Bhaskar is all set to give a bang with her upcoming release "Anaarkali of Aarah". As she promoted her film out here in Delhi along with the cast Pankaj Tripathi, (director) Avinash Das and (producer) Sandip Kapur.
"Anaarkali of Aarah" is based on the story of an erotic singer, played by Swara Bhaskar herself. Directed by Avinash Das, this movie portrays the life of a singer, from Aarah in Bihar and known for her double meaning songs. She is the star performer of her band, who is confident and energetic.
Whereas, her life turns with a twist, which came up with some serious conflicts for the same. And her fight for the stereotypicals in the society is the core of the movie.
Swara said that "The script of this movie is so good that i feel so proud to be a part of this film. Working in this film is itself a award for me. I did alot of research before doing this movie.
While asking to the producer he said that "The movie is based on erotic singer and when i heard about the movie script it seems full of entertainment and Masala movie.
Featured by Promodome Motion Pictures, produced by Sandip Kapur and Priya, "Anaarkali of Aarah" is slated to release on 24th March 2017.
Swara Bhaskar and Sandiip Kapur launch the trailer of Anaarkali of Aarah!
'Anaarkali of Aarah' -Trailer Swara Bhaskar, Sanjay Mishra, Pankaj Tripathi, Sandiip Kapur