UP Elections 2017: PM Modi to address rally in Mau today
Mau, Mon, 27 Feb 2017
NI Wire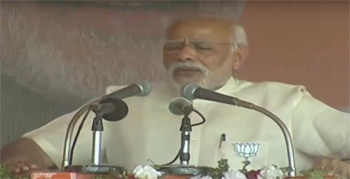 PM Modi to address an election rally in Manu today, during 2014 Lok Sabha elections, he could not addressed rally in Mau as one of the party's veteran leader passed way.
PM Narendra Mod is visiting Mau to address an election rally in Manu district in Uttar Pradesh today. Today PM Modi will full fill his promising of address the people of Manu.
The sixth phase of UP Elections will be conducted in Maharajganj, Kushinagar, Deoria, Azamgarh, Mau and Ballia districts of Uttar Pradesh.
Mau is also an important constituency in Uttar Pradesh. PM Modi selected this place for their election rally due to the importance of Mau in the state. Mukhtar Ansari is strong man turned into politician, recently joined Bahujan Samaj Party. Bahujan Samaj Party denied tickets for him and his associates. The Bahujan Samaj Party has fielded Mukhtar Ansari from the Mau seat.
In the 5th phase of UP Elections 10.77% voting was recorded till 9am. 18 millions voters will cast their vote today to decide the fate of 607 candidates in the state.
Polling for 5th phase for election in UP begins today in 51 constituencies. This phase is crucial for BJP, BSP, Congress, Samajwadi Party candidates in the state.
This phase is for electing candidates in major constituencies including Balrampur, Gonda, Faizabad, Ambedkar Nagar, Bahraich, Shravasti, Siddharth Nagar, Basti, Sant Kabir Nagar, Amethi, and Sultanpur to the UP Assembly.
In the 5th phase of UP Elections 617 candidates from 75 political parties are contesting for 51 constituencies. Today's election is very crucial for all the political parties taking part in the election.
The voting for the assembly will conclude on 8th March and results will be announced on March 11.
by Deepak Kumar