Kalasalingam Univarisity Organised a National social work workshop
New Delhi, Fri, 24 Feb 2017
NI Wire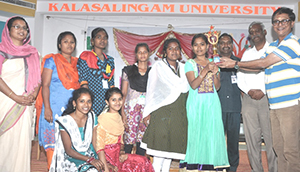 New Delhi - Kalasalingam Univarisity Department Of Social Work Organised National Level Social Work Students Meet "MANTRA -17 HELP US TO HELP YOU". Director Dr. S. Shasi Anand , presided over the function.
The main aim of the programme was to create a plat form for professional social work students to exhibit their talent and enrich their professional relationship.the programme consist 3 off stage items, Rangoli (Save Girl Child), Poster presentation (Social Inclusion) &Art from waste( Reduce Reuse and Recycle) and Flock dance (Ventilation) all the programmes are socially relevant theme oriented Around 138 students from 9 colleges were participated in the programme.
In validatotary function the welcome address given by Dr. K.M Ashifa HOD/DSW.chief guest,Savvy's soft technology, Bangalore HR cum Director Mr.V.Krishan inaugurated the function by watering the plant.
He said as per the present rules ,chief social welfare officer to be appointed in all organisations, and his responsibility is to make employers to do social activities.
Also he conducted campus interview and finalyear MSWstudent and A. Alagurani selected and hr mgr distribute the order also. He also said , social work cannot be taught in class room but it should be practised and understood in the field work only.
chief guest V. Krishnan announced the overall champion (Mother Theresa Women's University) and distributed the trophy to the students. Vice Chancellor Dr. S. Saravana Sankar in his address said that community projects are introduced at KLU fr the students which impact the society and village people are benefited.
Dr. Basil CLT Director gave the felicitation to the programme.HoD , MSW Dept, gave vote of thanks.