President of India addresses the Centenary Celebrations of Ramjas College
New Delhi, Tue, 14 Feb 2017
NI Wire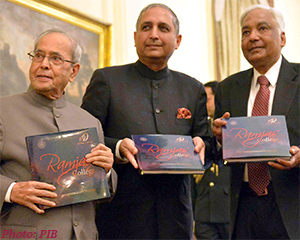 The President of India, Pranab Mukherjee addressed the Centenary Celebrations of the Ramjas College (February 13, 2017) at Rashtrapati Bhavan.
Speaking on the occasion, the President extended his best wishes to the Ramjas College on its Centennial Celebrations. He also congratulated Dr. Rajendra Prasad, Principal of the Ramjas College for last 32 years, on being presented the Lifetime Achievement Award on the occasion. He said that it is the bounden duty of all of us to salute such 'Gurus'.
The President said that the basic objective of education is not merely acquiring of a job but pursuit of knowledge. Knowledge based society is going to be the order of the day. He said that ever since he took over as the President, he has been constantly stressing on improving the quality of higher education in the country in his capacity as Visitor of Central Institutions of higher learning.
It had been his constant refrain as to why can't Indian Universities and Institutes of higher learning produce more Noble Laureates. He questioned as to why was it that till just about two years back, there was no single University or Institution of higher learning featuring amongst the top two hundred in international rankings.
He emphasized that there is no dearth of talent either of students or teachers in the country. We must therefore strive to earn our rightful place in the comity of nations on the basis of our merit. He wished that Ramjas College achieves many more important milestones in the future.
On the occasion, the President released a Centenary Postage Stamp and also a Commemorative volume on 'History of Ramjas'.
Source: PIB