Las Vegas shooting At least 50 killed, more than 400 indurre
LAS VEGAS, Mon, 02 Oct 2017
NI Wire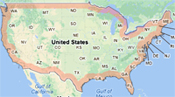 In a shocking incident which could be termed as insane incident, at least 50 people were killed in a gunman opened fire in a musical festival in Las Vegas in USA. More than 400 injured in the incident in which police shot dead the gunman.
The death toll could be rise which police emphasized was preliminary, would make the attack the deadliest mass shooting in US history. Certainly it has created a sense of panic in the country after the last year incident in which 49 people were killed in the incident happened in Orlando night club.
According to media reports, some 22,000 people were in the crowd when the man opened fire. Certainly it is the more pathetic attack so far which get witnessed during the show. The gun fire made people panicked and fleeing the scene, in some cases trampling one another, as law enforcement officers scrambled to locate and kill the gunman.
According to media reports, at least 406 people were taken to area hospitals with injuries. Meanwhile Police identified the gunman and said that there is not any information yet about his motive.
Sources claims that police has not any clue about his connection to any militant group.
The dead included one off-duty police officer, Lombardo said. Two on-duty officers were injured, including one who was in stable condition after surgery and one who sustained minor injuries, Lombardo said. Police warned the death toll may rise.