Need to conserve wildlife for a harmonious co existence of all living beings
New Delhi, Mon, 02 Oct 2017
NI Wire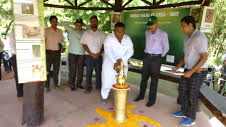 Imran Hussain, Minister (Environment & Forests), Govt. of NCT of Delhi inaugurated Wildlife Week 2017 on 2nd October, 2017 at Asola Bhatti Wildlife Sanctuary. More than 250 school children from Model National Public School, Dharti Mata Trust, Bright Institute of Management and Technology and Pragati Path Foundation, participated in the event alongwith their teachers and parents besides senior officers of Department of Environment and Forest, Govt. of NCT of Delhi.
Shri Imran Hussain, while inaugurating the event, appealed to the citizens of Delhi to conserve wildlife of Delhi for a harmonious co-existence of all living beings. Hon'ble Minister gave specific example of Dinosaurs which had become extinct and enquired if Delhi people wanted the house sparrow to have the same fate.
Interacting with the children, Sh. Imran Hussain also informed about the changes brought about by urbanization and about importance of greenery in present times. He said that earlier people would travel long distances over foot through jungles to reach a town. Whereas, now, people have to travel many kilometers in cars through a concrete jungle to reach a green forest area. This brought a big laughter and applause from the children who also shared their own interesting theories for saving the wildlife.
Minister asked the children and nature lovers to propose out of the box strategies for finding solution to the monkey menace in Delhi.
Speaking on the occasion, Addl Principal Chief Conservator of Forest, (APCCF) Delhi said that each organism has a specific role to play in the food chain and therefore the survival of human beings is dependent on the intricate web of life. During the event the children were taken on a short nature walk and were also explained the nuances of butterfly census. Butterflies are considered to be one of earliest indicators of healthy vegetation of an area.
Wildlife Week will be celebrated from 2nd to 9th October 2017 with fun filled activities for children like nature walk, painting competitions, quiz and hands-on workshop on nests making and butterfly counting. The event will culminate with distribution of prizes and certificates to the winners on 9th October, 2017.