Superstars Ajay Devgn and Aamir Khan back each other up!
Bollywood, Mon, 16 Oct 2017
NI Wire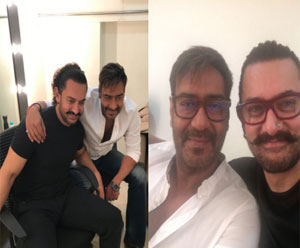 Mumbai:The fourth instalment of Ajay Devgn's mega franchise Golmaal is all set to release this Diwali and Aamir Khan's Secret Superstar will release just a day before Golmaal Again. But this box office clash means nothing to the two superstars who are in complete support of each other, especially when the films are completely different from each other.
Ajay Devgn and Aamir Khan met each other recently and took to Twitter to share an image that the two took together! They also wished each other luck for their upcoming films.
A box office clash doesn't always translate into negativity or malice especially when it is with two such mega stars who know their audience.
Golmaal Again, the fourth installment of the RohitShetty franchise is produced by RohitShettyPicturez in association with Reliance Entertainment and ManglMurti Films. The film is set to release this Diwali, October 2017.