Superheroes that lose Power and weapons in Movies!
Hollywood, Mon, 16 Oct 2017
NI Wire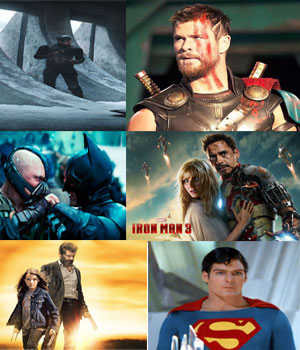 On 3rd November, one of the most anticipated superhero flicks of 2017, Thor Ragnarok will be unleashed, seeing an epic battle between Thor and hulk, Loki teaming up with Thor, Marvel's awesome first female villain Hela (played by Cate Blanchett) and lots more!
Along with the above, fans will also see Thor aka Chris Hemsworth lose his iconic Hammer, Mjolnir, and the last few Marvel movies have proven just how powerful the weapon is. It can call down lighting, plow through the Earth, and even allow Thor to fly. The trailers and promos have shown Thor without his weapon of destruction, and seems like it has gone to the evil forces!
Thor: Ragnarok is directed by Taika Waititi and returns Chris Hemsworth starring as Thor and Tom Hiddleston reprising his role as Loki. They are joined by Cate Blanchett, Idris Elba, Jeff Goldblum, Tessa Thompson and Karl Urban, with Mark Ruffalo and Anthony Hopkins.
As we prepare to see Thor stripped of his powers, yet battle the forces of evil, with Loki by his side, we recapture the best moments in movies which see our favourite superheroes without their famous weapons and powers!
1. Ironman in Ironman 3 (2013)
In Iron Man 3 Tony Stark proved he could get by with just his wits and his mechanical intelligence and though Iron Man doesn't actually have superpowers, his armour is his weapon. For most of Iron Man 3, we saw Tony Stark become the hero rather than Iron Man without his armour. It was at the absolute end, Tony Stark got back his armour, and then he led an attack on the Mandarin with hundreds of Iron Man suits.
2. Wolverine in Logan (2017)
Hugh Jackman as Wolverine sees himself weakened and unable to restore the same strength of his claws in Logan, as he fights for his daughter.
3. Spiderman in Spiderman 2 ( 2004)
Peter Parker, secretly the superhero Spider-Man, is estranged from both love interest Mary Jane "M.J." Watson and best friend Harry Osborn, and additionally discovers his Aunt May is facing eviction. He also finds himself suffering temporary, but reoccurring losses of his powers, often in life-threatening situations.
4. Captain America in Captain America: Civil War (2016)
At the end of Captain America: Civil War, after an intense fight with Ironman, Steve Rogers aka Captain America disables Tony Stark's armour and departs with Bucky, leaving his shield behind. When he reappears at the end of the movie to break out his allies from The Raft, the superhero prison in the middle of the ocean, it's without the stars and stripes.
5. Batman in The Dark Knight Rises
Christian Bale aka Batman is shown weakened, mentally and physically devastated, becoming a recluse, broken by the death of his childhood sweetheart Rachel Dawes, and Wayne Enterprises is losing profits. He is soon taken prisoner underground abroad but recovers his strength and escapes.
6. Superman in Superman II
In Superman II starring Christopher Reeve as the Man of Steel, Superman decides that he wants to be human and spend his life with Lois Lane rather than to continue being a hero. After revealing to Lois Lane that he is in fact Superman, he travels to his Fortress of Solitude where he intentionally exposes himself to red sunlight, which causes him to lose his powers.