ZenFone AR details leaked ahead of release
New Delhi, Tue, 03 Jan 2017
NI Wire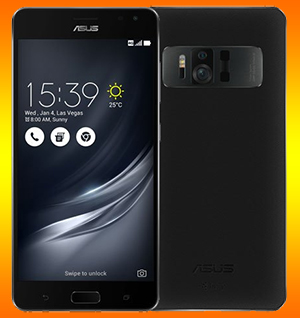 Asus Upcoming Release ZenFone AR Rumoured to have Tango-Daydream Combo Compatibility
Asus is reportedly set to unveil its new model ZenFone AR in the coming CES (Consumer Electronics Show) to be held in Las Vegas, Nevada. The phone would come pre-bundled with spectacular feature and be capable of impeccable performance at a very competitive price. The news came through a couple of web leaks by some eminent sources ahead of the CES 2017.
Surprisingly, one of the related leaks is sourced by Qualcomm, the reputed telecommunication equipment partner of the Taiwanese company. Qualcomm had posted a blog revealing that the new phone by Asus would not only feature Google Tango but also be Daydream-compatible, making it the first device to have the combination. The device would be powered by Snapdragon 821 processor alike the major Android models One Plus 3T and Google Pixel. Although the blog post was removed soon, it could not escape the vigil of some web publishers.
Another revelation came from Evan Blass, who tweets under the handle @evleaks. The mobile tipster posted an image titled "Asus ZenFone AR (2nd Google Tango phone)". The image shows the front and back of a black handset, which is quite sleek with home button (probably embedded with fingerprint sensor) in the front panel and having a wide, strong camera setup towards its rear.
If the reports stand true, the handset would supposedly be the second phone to feature Tango after the Lenovo Phab 2 Pro. Also it will be fourth among Daydream-ready smartphones – Axon 7, Pixel and Pixel XL, Moto Z and Moto Z force. Tango is a technology platform, developed by Google, which supports Augmented Reality (AR), indoor navigation, physical space measurement, environmental recognition without the use of GPS and other external signals. Daydream is an Android platform, also developed by Google for ultimate virtual reality experience.
The full specifications, availability and price of this new model in high-end phone series of Asus, is expected to be unveiled in their press conference on Wednesday.