'Newton' Starring Rajkumar Rao to be Premiered at Berlin Film Festival: First Look Shared
Bollywood, Fri, 20 Jan 2017
NI Wire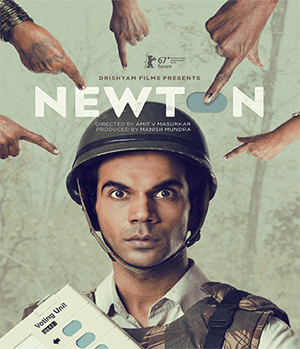 Bollywood is slowly taking its cinema to the International level, as noticed in the last few years. " Newton", is an addition to this crusade of Bollywood and is ready to be recognised globally as it is about to have its World Premiere at Berlin Film Festival 2017. The film has Rajkumar Rao, the guy who is known for some lovely performances as the protagonist.
Directed by Amit V. Masurkar and produced by Manish Mundra, the movie belongs to the dark comedy genre and has political undertone. It foretells the story of an outgoing clerk, who gets posted in a trouble-ridden region of Chhattisgarh, on an election duty. The Forum segment, which features innovative, edgy and extraordinary titles, would be holding premiere of the film in the 67th Berlin Film Festival, taking place from Feb 9 - Feb 19.
One of the most brilliant actors of our country, Rajkumar has grabbed many accolades in his kitty within the six years career span in Bollywood. The national award winning actor went on to announce the news about his upcoming movie on Twitter. Sharing the poster of his anticipated project, he wrote...
"So happy 2 share tht our film #NEWTON wil have it's world premier at Berlin i'national film festival. Congrats team @ManMundra @Amit_Masurkar."
The actor, who has experimented with many kinds of roles right from City Lights to Shahid to Aligarh, looked very excited while talking about his part in Newton. He said that the script traces the journey of a very optimistic common man, with dream of making it big someday. The humorous story shows the man heading to a Naxals-prone Jungle. He also informed that he has been choosing assignments wisely and about him meeting Manish Mundra, loving the script that he had to offer soon after reading it once. Manish Mundra is the same man who was behind the critically acclaimed flicks Ankhon Dekhi and Masaan.