BlackBerry 'Mercury' Teased and Leaked Ahead of its Official Launch
New Delhi, Mon, 16 Jan 2017
NI Wire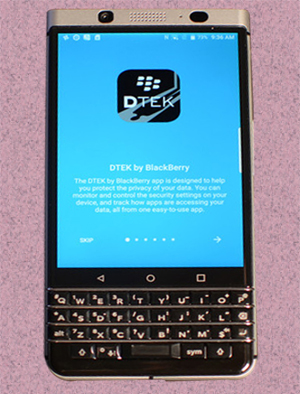 The roll out of BlackBerry's upcoming phone is about to take place shortly in CES 2017, but many of the mobile crazy consumers have already noted its externals. This was made possible by the official teasers that were released by Steve Cistulli via Twitter posts. Moreover, the Weibo showed a couple of leaked images with specs of the phone that gave out a little too much.
The President of the TCL Communication in North America, Steve Cistulli had described the video snippet as "impressively designed distinctly different" in his first post. It didn't show much of the phone except the physical QWERTY keypad and the quintessential black tint. Teasing for the second time with "one more look" he posted another video which gave a better glimpse of the phone. It displayed the rounded corners of the pitch black metallic device. One can notice the curvaceous corners of the keypad buttons too in the snippet. Other noticeable features that can be peeked into through the rushes are - speaker grilles and USB type-C port (supposedly), volume as well as power button on the right side, the Android Navigation controls.
While some reports indicate that the phone will be called 'Mercury', there are indication of it being named as 'Press' too. Mercury might also be the codename for the device as per some sources. The Weibo leaks, however, suggest that the new phone by the Canadian Multinational will be branded as 'DTEK70'. The post by China's popular microblogging site also listed some major specifications, such as, 4.6-inch touch-screen display, Qualcomm Snapdragon 625 processor, 32 GB storage, 3 GB RAM, 3400 mAh battery. In it earlier leak, Weibo had specified that 18-MP rear and 8-MP front snappers are embedded in the new model.
The brand new BlackBerry phone is the last phone manufactured by the company before the manufacturing license is transferred to a third party. This was mentioned by CEO of BlackBerry John Chen in November last year.