Five Most Buzz-Making Smartphones Awaited in 2017
New Delhi, Mon, 16 Jan 2017
NI Wire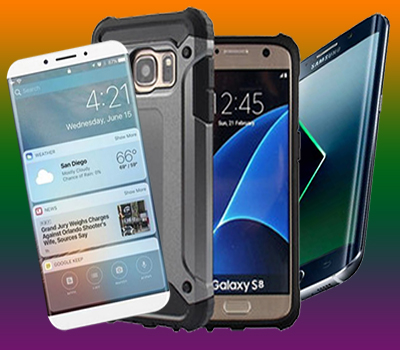 The pace of the technology is most lucidly reflected through the smartphones which have silently slipped into the necessities of our lives. It is quite difficult to imagine life without phones and that too without the 'smart' ones. The markets are flooded with phones, most of them are decent and worth buying. Just when we thought we are buying the best phone available in the markets, another device comes and refutes our understanding, demolishing our pride. It is quite a tedious task to track myriads of devices due to get released, so we have prepared a list of some which are yet to come, still kept the consumers going gaga over them. Let us glance through some of them for a soothing tech-fantasy ride.
Samsung Galaxy S8: After the Samsung Galaxy Note 7 debacle, lot of negative attention has been drawn on Samsung handsets. Codenamed "Project Dream", this model is pitched to be the one which can cleanse all the scars that smothered South Korean Major's reputation. A number of leaks and rumours have made some probable features public and those include wireless earphone, dual-edge curved display, with thinner bezel, ensuring greater screen to phone ratio. The built-in Al Assistant Bixby which is set to replace S-Voice Assistant is expectedly the biggest plus point for the phone. It is speculated that two variants of the model will come out, of which one will be measuring 6-inches. It is also said that there will be two options of Snapdragon 3.6 GHz 835 SoC and 4 GHz Exynos 8895 chipsets. On the imaging front, there are reports that the device would be loaded with a dual-camera setup towards the rear, while the front shooter would have auto-focus feature. All of these and other whispers will be verified when Samsung officially announces the phone in April 2017.
iPhone 8: This overhyped upcoming handset in the series of the much worshipped brand, whose name can cause a stir among the gizmo lovers, is set to be a complete overhaul from its predecessors. Since Apple is celebrating its 10th anniversary of iPhone launch this year, it is rumoured that this phone is going to have some dreamy combo of high-tech features. From what is being circulated, it can be said that the extraordinary device shall comprise of OLED panel, advanced Wireless Charging support, a swifter A-11 processor, glass casing, Front camera and Touch ID fingerprint sensor integrated display, as well as, Iris scanner and much more. This phone would be launched alongside the upgraded successors of iPhone 7 and 7 Plus in late September. It has also been told by some sources that about 10 prototypes of the iPhone 8 have been tested, which has raised the eagerness levels doubly.
Samsung Galaxy X: Another phone by Samsung which is probably more awaited than Galaxy S8, because of a pioneer feature that it may have. The very capability we are talking about here is of being folded and by that if we are in no way referring to the flip technology. Yes, as per some patents leaked, the phone can be folded at different angles, as well as, in centre. Sources also reveal that the foldable device might have a screen of 4K resolution and Samsung Edge-like extension. Apart from this not much has been known about the specifications of the model. Like the Galaxy S8, the release of this phone has also been delayed, supposedly to lighten the effect of the S7 fiasco and the 'Choi-gate' scandal in South Korea and may come out in Q3 or Q4 of this year.
Google Pixel 2 and Pixel XL 2: The first flagship model of Google Pixel had a lot of hopes attached to it for obvious reasons. However, the phone failed to bring contentment to the users due to its faulty hardware, buggy operating system and a very normal design. Nevertheless, the great display, battery life and imaging features of the phones and the brand name are enough to look forward to the next launch in the series with renewed spirit. Although there are no flying reports about the models, we are anticipating that improved versions of Pixel would make way in the coming year to provide a splendid experience.
Microsoft Surface Phone: Microsoft may not have made their mark with the Lumia 950 and 950 XL, but as said by Satya Nadella, they are leaving no stone unturned in developing their Surface handset an 'ultimate smartphone'. There has been quite much hearsay doing the rounds in respect of the roll out of the device this year. It is said that the phone will have a 5.7-inch screen powered by Qualcomm Snapdragon 835 processor and will also consist of grille speakers at the top and bottom along with 3.5mm headphone jack and USB Type-C port respectively. The handset running on Windows 10 would be embedded with a terrific camera, probably with Carl Zeiss label. The device would reportedly also render the Windows desktop experience. There Surface tech has already done a decent job with Surface Pro, Surface Book and it would be interesting to see how it fares in a small screen device. Moreover, given that the biggies of the smartphone industry like Google and Nexus are already in the race, it would be quite great amusement to watch if the Tech Major manages to shoot itself towards the top.