Quality of Primary and High School Education in Rural Areas
New Delhi, Fri, 05 Aug 2016
NI Wire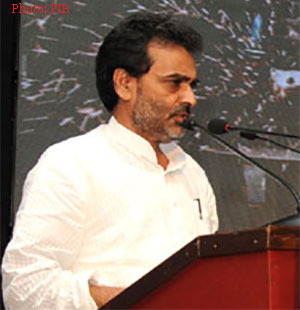 The National Council of Educational Research and Training (NCERT) conducts periodic national surveys of learning achievement of children in classes III, V, VIII and X. Four rounds of National Achievement Survey (NAS) have been conducted so far for class V and three rounds for classes III & VIII. These reveal improvement in learning achievement levels of pupils, in identified subjects from first round to fourth round. Since only first round of NAS has been conducted at Class X level, it is not possible to comment on the comparative learning achievement or decline of students of Standard X.
The results of the 3 cycles of NAS conducted at classes III, IV & VIII over the period of time indicate that there is no significant difference in performance of students of rural and urban areas.
The standard of education in States and UTs depends upon several factors including socio-economic, socio-geographic and educational background of the students, availability of basic infrastructure/amenities in schools, availability of trained and competent teachers in the schools and so on.
Since the inception of Sarva Shiksha Abhiyan (SSA), a flagship programme of the Central Government for universalising elementary education in 2001 till 31.3.2016, opening of 3.64 lakh new elementary schools, construction of 3.11 lakh school buildings, and 18.61 lakh additional classrooms and 19.48 lakh teacher posts have been sanctioned to States and UTs. Further, under SSA, the State Governments and UT Administrations are supported on several interventions to improve teaching standards, including regular in-service teachers' training, induction training for newly recruited teachers, training of all untrained teachers to acquire professional qualifications, recruitment of additional teachers for improving pupil-teacher ratios, academic support for teachers through block and cluster resource centres, continuous and comprehensive evaluation system to equip the teacher to measure pupil performance and provide remedial action wherever required, and teacher and school grants for development of appropriate teaching-learning materials, etc. The Right of Children to Free and Compulsory Education (RTE) Act, 2009 specifies statutory duties and responsibilities of teachers and lays down the minimum qualifications for a person to be eligible for appointment as a teacher in elementary schools.
Additionally, to improve the quality of elementary education in the country, the Central Government has taken several initiatives. Some of these are – (i) Padhe Bharat Badhe Bharat' (PBBB) which is a sub-programme under Sarva Shiksha Abhiyan (SSA), encourage children to improve on early grade reading, writing & comprehension, and early Mathematics in classes I and II. Rashtriya Aavishkar Abhiyan (RAA) programme has been launched in July 2015, inter alia, as a sub-component of Sarva Shiksha Abhiyan and Rashtriya Madhyamik Shiksha Abhiyan (RMSA), to motivate and engage children of the age group from 6-18 years in Science, Mathematics and Technology through observation, experimentation, inference drawing, model building, etc. both through inside and outside classroom activities.
At secondary level, the centrally sponsored scheme of RMSA envisages enhancing the quality of education by providing a secondary school within a reasonable distance of every habitation, improving quality of education imparted at secondary level, removal of gender, socio-economic and disability barriers. The Scheme provides for classrooms, science laboratory, library, computer room etc. in new/upgraded and existing secondary schools. Since the inception of RMSA in 2009-10 till 31.3.2016, 11,599 new secondary schools, 52,715 additional classrooms, 25,948 science laboratories, 21,864 computer rooms and 27,428 libraries have been sanctioned to States and UTs. Under the scheme, financial assistance is provided to the States/UTs for various above activities including teachers training viz. induction training, in-service teachers training, master trainers training, training of key resource persons, professional development training as well as management and Leadership training of headmasters & state resource groups (SRGs).
This information was given by the Minister of State (HRD), Shri Upendra Kushwaha today in a written reply to a Rajya Sabha question.
Source: PIB