6 Degree Stage One at Lakme Fashion Week Winter/Festive 2016 Most Innovative opening show of the season
Mumbai, Fri, 26 Aug 2016
NI Wire
null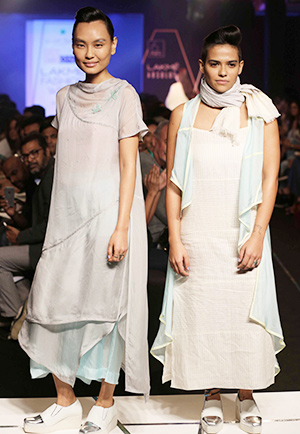 Mumbai: 6Degree Stage One at Lakme Fashion Week Winter/Festive 2016 was the venue of the most innovative opening show of the season. 'Trapezoid' by Schulen Fernandes for Wendell Rodricks, gave a quick lesson in amazing geometric cutting. The Trapezoid shape from ancient Incas and Egyptian times was used for archways, doors and windows. Wide at the base with a narrow top and two lateral incline sides that move up to the summit; it was used extensively also by Indians for geometry, astronomy, mathematics and algebra.
Schulen Fernandes for Wendell Rodricks experimented with this ancient shape as she gave the garments touches of the same. The construction was intense as layers like sheer X-rays were blended with soft feminine pastels. The Trapezoid shapes appeared prominently as they morphed onto detailing like pin tucks, sewn dotted lines and patterned forms to bring a unique touch to the female shape, which was just right for the Indian figure.
The fabrics were extensive as linen, cotton, light crêpe, georgette, paper silk, jacquard and damask moved in unison for the garments. The Trapezoid with 12 weaves and the custom made fabrics further enhanced the beauty of the ensemble. The fabric list extended to natural Bemberg that resembled natural viscose but felt like silk, striped Chanderi, silk cotton, Kerala custom weave cotton, natural dyed Bengal cotton, Malkha cotton and eco-fabric dyed with flowers brought from the Siddivinayak temple in Mumbai that further created an aura of amazing wonder around the garments.
The ensembles displayed versatility and appeared exquisite, irrespective of the age and size barrier. The attires were distinct and thought-provoking from colour blocked long kurtas and shirts teamed with flared trousers to free flowing kaftan style jackets thrown over floor length dresses and skirts. Pastel sheer culottes teamed with an oversized top made out of two different fabrics looked quirky and unconventional.
Sheer layered handkerchief dress, power shoulder crop-top combined with layered palazzos appeared to be sporty chic. Another outfit that stood out was a sheer long skirt with slits on both sides with a basic structured top that had detailed sleeves. A panelled dress layered with an elegant scarf was another option that seemed promising. The colour palette narrated a pastel story; it included aqua, peach, mint, mustard, grey and pink.
Presenting a unisex, unisize, unique collection for Indian women, the line was aimed at all levels of the female buyers. The USP of the show besides the stunning collection, were, 8 women from different sections of society who were achievers in their own right. Angie, Susanne Sabhlok, Justine, Yvette, Cher, Salome Roy Kapur, Khloe, and Sharmila Khanna looked stunning in the creations that were ideal for their personalities.
Wendell Rodricks also pioneered the release of the Indian Size Chart for women, which has never been done before and has been needed ever since the fashion business started in the country. The Indian Size Standard, Wendell felt will benefit designers, buyers and retailers.
'Trapezoid' by Schulen Fernandes for Wendell Rodricks was a fashion show experience that not only displayed elegant style but gave a quick learning experience in history, geometry and sizing to the audience.
Lakme Fashion Week Winter/Festive 2016 Launched The First Ever Women's Standard Sizing Chart in India by Wendell Rodricks
Since the inception of Lakme India Fashion Week in 2000, there have many ramp strides in the industry on all fronts. After fifteen years of progressive fashion, it was time to finally put one aspect of the industry in place - The Indian Women's Standard Size Chart.
Confused by size charts of other countries, designers, buyers, retailers, fashion students and the industry at large often had one brand's 'Small' was another's 'Medium' or even 'Large'. Lakme Fashion Week Winter/Festive 2016 proudly collaborated with pioneering designer Wendell Rodricks who has worked on creating a Standard Indian Women's Size chart since 1988. With various body types in India, this chart has an average body size that is challenged only by height. However this has also been addressed. The figures stated are body measurements and the industry is encouraged to add seam allowances depending on the style and fit desired. Lakme Fashion Week and Wendell Rodricks await feedback on the chart.
null