Atsu Sekhose Brought the Glamour of Naga Shawls to Center Stage at Lakme Fashion Week Winter/Festive 2016
Mumbai, Thu, 25 Aug 2016
NI Wire
null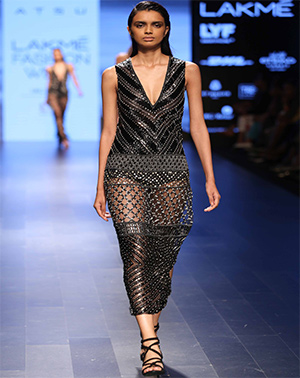 Mumbai: Atsu Sekhose India's famed designer from the North East has been one of the most creative in the business of fashion. His latest collection at Lakme Fashion Week Winter/Festive 2016 was an ode to the beautiful Naga shawls. Influenced by the black and white superb weave of this traditional shawl, Atsu contemporised the graphic elements and turned them into minimal modern silhouettes. Using the drapes of the tribes as a guideline, the styling of the ensembles was very luxurious and innovative. Aimed at the fashionable urban buyer who jet sets around the globe, Atsu ensured that the construction was sophisticated as well as form-fitting that added a touch of pizzazz.
The eye-catching outfits were totally hand crafted with some amazing intricate embroidery featuring motifs that were recreated from ancient Naga textile symbols.
Incorporating only black and white with fuchsia and pink accents to add hints of colour, Atsu had a firm creative control on all aspects of the collection.
Opening the show with the dramatic halter black/white panelled dress, Atsu brought amazing creations like the one-shoulder high slit skirt dress, deep 'V' neck embroidered panelled creation and the corset tied around the ivory shirt. The fuchsia hues blossomed for slim midi and the long sleeved blouse with cut-out shoulders that raised the bar of the colour card. Lace bustier with skirt and blazer, kimono style coat with cropped pants and the one long sleeved asymmetric sheath took the show to a more formal level.
The final line of black lacy gowns shimmered with glitter, and at times were multi-tasselled or with silver embellished necklines. The show stopping body suit with a long net tasselled skirt will surely be the highlight on the Red Carpet.
For trend setting fashion that will create a stir at any event, the Atsu Sekhose collection will cause quite a sensation.
null