National Heart Institute (NHI) celebrates 35th Founder's Day
New Delhi, Mon, 22 Aug 2016
NI Wire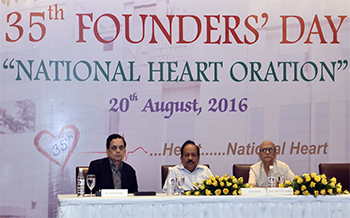 Dr Harsh Vardhan, Hon'ble Minister for Science and Technology grace the occasion
NHI Oration delivered by Padma Vibhushan Awardee Dr PN Tandon, Prof. Emeritus Neurosurgeon, AIIMS
The National Heart Institute (NHI) celebrated its 35th Founder's Day at Hotel Shangri-La today. Dr Harsh Vardhan, Hon'ble Minister for Science and Technology, was the Chief Guest for the event. Padma Vibhushan Awardee Prof. P N Tandon, Prof. Emeritus, Neurosurgeon, AIIMS delivered the National Heart Oration. He spoke about how medical education is in urgent need of a revolution.
Speaking at the event, Dr O P Yadava, CEO & Chief Cardiac Surgeon, National Heart Institute and Dr Vinod Sharma Vice Chief Executive Officer & Head of Cardiology Services, National Heart Institute in a joint statement said, "It is indeed a proud moment for us to have such eminent personalities celebrate our 35th Founders Day with us today. We began our journey in 1981 and this day was specifically chosen by the then Prime Minister Mrs Indira Gandhi because it happened to be her son Rajiv Gandhi's birthday. She felt that there couldn't be a more auspicious day for inaugurating NHI, a hospital established with the aim of providing state-of-the-art Modern Cardiac Care to the masses especially those who cannot afford it. Our journey so far has been commendable, and we hope that we continue to make a difference in the lives of others in the years to come".
Commemorating completion of 35 years, a series of health awareness activities were also initiated. These include a yearlong preventive heart health school education programme and Continued Medical Education workshops for family physicians. A total of seven family physicians were recognised for their work and commitment to providing quality healthcare to the masses. A special edition of the NHI Dialogue, NHI's in-house magazine and a Family Physician Guidebook were also released
Congratulating NHI the Chief Guest, Dr Harsh Vardhan said, "NHI's commitment to providing quality medical care to the masses is commendable. I congratulate them on their 35th Founder's Day."
"What started out small has made a huge impact in the lives of many people. As part of AIHF, the NHI has been committed to providing quality care. The programmes being launched will only give more impetus to all the efforts," said Dr S Padmavati in her message.
Speaking on the occasion, Padma Vibhushan Awardee Prof. P N Tandon, Prof. Emeritus, Neurosurgeon, AIIMS said, "I congratulate the NHI on completing 35 years and for the initiatives they are undertaking. Programmes like these will go a long way in educating the young and old alike." He also expressed his gratitude for the honour bestowed on him.
Committed to social service from the very onset, NHI carries out community outreach programmes (heart camps), executive health checks and recruitment checks to detect cardiac problems early and take remedial action. The hospital regularly provides free treatment to such patients at subsidised rates. NHI also runs free OPDs for two hours on all working days. In collaboration NGO's such as Rotary International, Heart Beat International, and Heart Care Foundation of India the hospital provides free cardiac interventions to needy patients.
With India inching towards the title of the heart disease capital of the world, NHI also released 5-year internal data highlighting a 10% increase in the cases of heart disease amongst women and 28% increase in those below 40. Stress was laid on the need to make timely lifestyle modifications and undergo regular health checkups.