PTA meetings better understanding between teachers and parents : Mamta Nagpal
New Delhi, Sat, 30 Jul 2016
NI Wire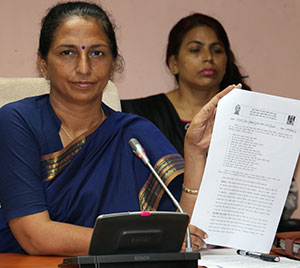 New Delhi, 29 July, 2016: North Delhi Municipal Corporation Education Committee Chairperson Smt Mamta Nagpal today said that the steps taken by the Corporation to improve quality of education in Corporations' schools have produced results at the ground level.
While addressing a press conference at Civic Centre, Smt Nagpal said that the steps taken by the North Delhi Municipal Corporation are aimed at transforming MCD schools into centers of quality education.
Smt Nagpal said that after taking charge as North MCD Education Committee Chairman, she started surprise visits of North MCD schools and has covered 16 schools in 7 Assemblies so far. These include Patel Nagar (4 schools), Adarsh Nagar (3), Burari(2), Karol Bagh (1), Shalimar Bagh (4), Timarpur (1) and Model Town (1). It has helped in improving the systems as well as taking actions against those teachers and other staff who are responsible for dereliction.
Smt Nagpal said that the steps such as surprise visits of MCD schools, regular meetings of principals/incharge and other various officials and coordination-communication drives with students also have ensured better atmosphere and improved conditions of these schools which has benefitted more than 3.5 lakh students especially those belong to economically weaker sections.
Smt Nagpal said that principals/incharge meetings have played a vital role in improving standard of MCD schools. Smt Nagpal said that earlier 3 parents teachers meeting were held per year but now they have been increased to 6 per year. A decision was taken in this regard during a principals-teachers meeting in June.
Smt Nagpal said that besides becoming a bridge between teachers and parents, these types of meetings ensure a better understanding between teachers and parents on issues such as education of students as well as their hobbies. These meetings also ensure transparency in the functioning of MCD schools.
Smt Nagpal said that the North MCD has been working in interests of the people of Delhi without any publicity. She said that AAP Government of Delhi is engaged only in publicity stunts. It has done nothing for welfare of people of Delhi. She said that the Delhi Government has been taking credit of starting parents-teachers meetings in Delhi Government schools but MCD schools have been organizing such meetings for a long time. Such programmes should be organized on a regular basis and should not be made an issue of publicity.
Smt Nagpal said that public money should not be wasted on "self-praise". On the Delhi Government's decision to start parents-teachers meeting, she said that "Better late than never.