Award for faculty of Kalasalingam University
New Delhi, Fri, 29 Jul 2016
NI Wire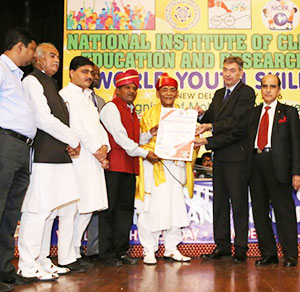 New Delhi: The National Institute of Cleanliness Education and Research has Presented the Lifetime Achievement Award to M.Thirugnanasambandam, Professor, Department of Mechanical Engineering, Kalasalingam University, for introducing the concept of 'Green Army'.
The Green Army, Formed by Prof. M.T. Sambandam in Kalasalingam University with student under takes many green activities like cleaning the environment, tree planting and energy saving exercise.
The award was presented by Prof. M.T. Sambandam by petko Doykob, Ambassador of Bulgaria, at a resent function in New Delhi in the presence of P.R. Trivedi, president of the confederation of Indian Universities, according to Kalasalingam University.
Kalasalingam, University Started as Arulmigu Kalasalingam College of Engineering in 1984 by Kalasalingam and Anandam Ammal Charities. Govt. of Tamil Nadu granted permanent approval and Madurai Kamaraj University has given permanent affiliation.
Ranked among top 5 engineering colleges affiliated to Anna University, Tamil Nadu. UGC Approval under section 2(f) and 12(b).
Accredited by National Board of Accreditation for all UG Programmes. Obtained ISO Certification by RWTUV, Germany.
Located in the most backward rural area providing technical knowledge to the downtrodden people as pointed out by our Honorable Prime Minister of India. Received Deemed to be University status in October 2006 and Kalasalingam Academy of Research and Education (KARE) started functioning from the academic year 2007-08. Ranked 7th in terms of Quantity and Quality Research output among Private Universities in the Country-as perSIR World Report Research H index of University is 38.