Proud moment for India to have achieved these two momentous public health milestones: J P Nadda
New Delhi, Fri, 15 Jul 2016
NI Wire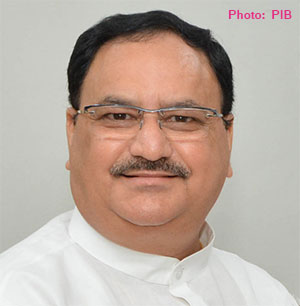 India felicitated for Maternal and Neonatal Tetanus Elimination (MNTE) and yaws-free status India: first nation to be formally acknowledged to be yaws-free "proud moment for India to have achieved these two momentous public health milestones": J P Nadda
"Proud moment for India to have achieved these two momentous public health milestones". This was stated by Shri J P Nadda, Union Minister of Health and Family Welfare as he received the official citation from WHO and UNICEF, in the presence of Smt. Anupriya Patel, Minister of State, Health & Family Welfare, for Elimination of Maternal and Neonatal Tetanus and for being YAWS-free, here today. India is the first country to be officially acknowledged as being Yaws-free. India was validated for Maternal and Neonatal Tetanus Elimination (MNTE) in April 2015, much ahead of the global target date of December 2015.
Speaking at the occasion, Shri Nadda stated that following the success of polio eradication programme, these achievements reflect the dedication of the country towards achievement of health equity and universal health coverage. This has been possible due to the commitment and dedication of the lakhs of health workers, various stakeholders and concerted efforts of planners and policymakers, he added. He congratulated them all for this singular honour the country has achieved in a short span of time. He further added this accomplishment is significant as India has achieved this important milestone of being Yaws-free much before the WHO global target year of 2020.
The Union Health Minister stated that India has shown the world that there is no such thing as impossible. These are likely the greatest lessons, and the greatest inspirations for the rest of the world, the Health Minister added. The Health Minister appealed to sustain this achievement of Maternal & Neonatal Tetanus Elimination (MNTE) by health system strengthening; high routine immunization coverage and promotion of institutional/Clean Delivery/clean cord practices and effective surveillance system. The gains in keeping India free from preventable deaths continues with introduction of newer vaccines such as Rotavirus vaccine, IPV, Adult JE and soon-to-be introduced Measles-Rubella in the public health programme of the country, the Minister added.
Smt Anupriya Patel, Minister of State for Health and Family Welfare said that this is a huge public health feat. She further added that this has been possible through continued efforts of political leadership and hard work of health workers. Smt. Anupriya Patel congratulated all stakeholders and said that this achievement is particularly significant as both MNTE and YAWS have been achieved much before their target dates.
Dr. Poonam Khetrapal Singh, Regional Director WHO-SEARO congratulated India and said that these are achievements for entire humanity and not just India. She further added that this has been possible because of education and early treatment of vulnerable population. She said that lessons learned from these two huge public health milestones should guide other programmes as well. The achievements will not only improve the health of marginalized communities, but will also enhance their socio-economic status and contribute to India's wider development, Dr Singh noted.
India completed validation of maternal and neonatal tetanus elimination in all of its 36 states and union territories in April 2015, much earlier than the target date of December 2015. While progress continues to be made, by June 2016, 19 countries have still not reached the maternal and neonatal elimination status. The elimination of Maternal and Neonatal Tetanus as a public health problem means that in our country the annual rate of Maternal and Neonatal Tetanus is now less than 1 per 1000 live births.
The Health Ministers also released Immunization Handbook for Medical Officers; Routine Immunization Monitoring Guidelines & SOPs; INCHIS survey report of Mission Indradhanush; Guidelines for establishing sentinel stillbirth surveillance; Maternal & Child Health Guidelines on Birth Defects Surveillance and Still Birth; "Yaws Disease - End of Scourge in India" booklet along with the new Communication Plan for Routine Immunization featuring Shri Amitabh Bachchan.
Mr. James Gitau, Country Representative (officiating), UNICEF; Shri Bhanu Pratap Sharma, Secretary (HFW); Dr. Jagdish Prasad, DGHS; Shri C K Mishra, ASnMD (NHM); senior officers from the Ministry and representatives of various Development Partners were also present at the felicitation ceremony.
Source: PIB