J P Nadda launched several E-health initiatives on world health day
New Delhi, Thu, 07 Apr 2016
NI Wire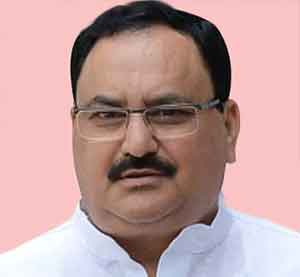 On the occasion of world health day J P Nadda launched new health related application and said we need to focus on healthy lifestyle for better future.
On the occasion of World Health day J P Nadda, union Minister of health and family welfare said "We need to focus on the youth and adolescents of the country in our efforts to prevent and combat lifestyle diseases such as Diabetes" he added creation of awareness can prevent large number of non Communicable disease that are growing are because of poor lifestyle and lack of exercise we will go a long way to ensure that our country remains healthy.
Health Minister today launched several new e-health initiatives. Mr. Nadda launched "Swasth bharat mobile application' and 'ANM online application ANMOL. Its tablet based application that allows ANM's to enter and updated data for the benefit of people. The minister said since the application is Aadhaar enabled it will help in authentication of records of field workers and beneficiaries.
In order to interconnect the blood banks, bring them under a single network. Health minister also launched 'E- Raktkoash initiative' this is a web based mechanism that will manage information. The Integrated Blood Bank MIS refers the acquisition, validation, storage and circulation of various live data and information electronically regarding blood donation and transfusion service.
To fight Dengue he also launched 'India Fight Dengue' an application which will find wide use especially in case of Dengue which can be defeated only by effective community efforts. He further released Guidelines for dialysis centre in PPP mode. He stated soon facility of dialysis will reach to corners of India and will reduce the cost of dialysis under this PPP model.
Sripad Naik MOS (health) said it's important we spread information and awareness to boost fight against non communicable diseases. He also stated AYUASH or the traditional system has the potential to prevent and cure many NCDs. AYUASH centre will play important role in our health sector and we are planning to start AYUASH in many other institutions.
Shri Jitendra Singh, MoS (DONER and PMO) stated the dietary habits of people living in both urban and rural areas are getting poor and need to improve in order to maintain good health of our future generation and government is working toward giving a better environment and trying to provide better facilities.
Shri B P Sharma, Secretary (HFW), Dr Saumya Swaminathan, Secretary (DHR) and DG (ICMR), Dr. (Prof) Jagdish Prasad, DGHS, Shri C K Mishra, AS & MD (NHM), Dr A K Panda and other senior officers of the Health Ministry, representatives of WHO and other development partners were also present on this occasion.