What is Zika Virus?
New Delhi, Fri, 01 Apr 2016
NI Wire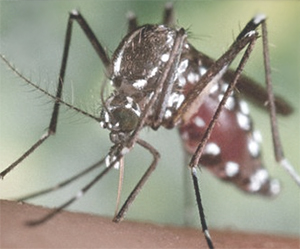 Zika virus is a mosquito borne virus that was first identified among monkeys in Uganda in the year 1947 and later in humans in 1952. Outbreaks of Zika virus have most commonly been seen in Africa, Asia, South America and the Pacific region. Zika virus is transmitted by a category of mosquitoes called Aedes which was originally found in tropical and sub-tropical zones and is now found on all continents except Antarctica. As of February 2016 however, it has been found that the disease can also be transmitted sexually, as seen from three reported cases. There is also a possibility of the virus spreading from a mother to child while she is still pregnant, although it has not yet been proven.
Signs and Symptoms
The most common symptoms include mild headaches, fever, conjunctivitis, joint pains, and dengue like conditions. The incubation period, or the time taken for the symptoms to manifest, is usually a few days. These symptoms are usually mild and last from 2-7 days. So far Zika fever has been classified as a relatively mild disease with few fatalities. During the large outbreaks that took place in French Polynesia and Brazil, the national health authorities observed potential neurological and auto-immune complications of the Zika virus. In Brazil, the local authorities also believe there is a connection between the infections of Zika virus in public and increase in babies born with microcephaly. However more investigation is needed to better understand the situation.
Prevention
Mosquitoes and their breeding spots are the most significant reasons for the spread of the Zika virus. Infections from Zika virus can most effectively be prevented and controlled through some of the following measures.
Using insect repellents regularly
Cleaning and throwing away any stagnant water
Covering as much of the body as possible and creating physical barriers such as window screens
During outbreaks, make use of insecticides as advised by the local health authorities
Sleep under a mosquito bed net especially if you are outdoors or in a place heavily infested with mosquitoes.
Immediately after infection and up to a week, Zika virus is present in the blood stream. During this period it is possible for a mosquito to carry infection from the infected person. Therefore it is advised that those diagnosed with Zika virus take strict precautions to avoid further mosquito bites.
Treatment for Zika virus
No cure has been found for the virus; however the symptoms can be treated with paracetamol, aspirin and other nonsteroidal drugs. However we can provide some basic steps to help reduce the inconvenience caused due to the virus.
Make sure that you are getting adequate rest.
Hydrate yourself.
Basic medication like acetaminophen (Tylenol) or paracetamol are sufficient to treat fever and body ache.
Avoid use of aspirin and non-steroidal anti-inflammatory formulae without medical supervision.