Plastic Currency in India: Govt. to introduce Plastic Currency
New Delhi, Fri, 09 Dec 2016
NI Wire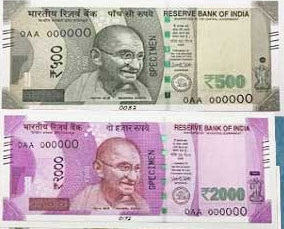 New Delhi, Dec 9: The paper currency, presently used in India, will soon give way to plastic currency, as a part of government's strategy to counter counterfeiting of currency notes. Indian Government Gearing Up to Introduce Plastic Currency Notes in the Economy. The parliament was informed by the Minister of State for Finance Arjun Ram Meghwal in writing about the decision.
Answering to a query in Lok Sabha, on whether there is a proposal from RBI to print plastic notes in place of paper notes, the minister stated, "It has been decided to print bank notes based on plastic/polymer substrate. The process of procurement has been initiated".
The advantage of polymer/plastic notes is that they last significantly longer than paper-made notes and also difficult to counterfeit due to their security features. The reduced cost of producing and replacing, as well as, lesser impact on environment are some of the other benefits that make it superior to the its counterparts. Not only this, the notes made from this alternative material gets less soiled and cannot be mutilated easily.
As informed by Government in February 2014, field trials were conducted by Reserve Bank of India in five cities of India viz. Jaipur, Kochi, Mysore, Bhubaneshwar and Shimla. For this purpose about one billion Rs. 10 notes were reportedly used. The cities were chosen on the basis of their climatic and geographical diversity and since then the supreme banking authority has been longing to get the polymer made notes under circulation.
In reply of another query, Arjun Meghwal stated that Reserve Bank of India had received some banknotes without security thread in December 2015. They were of Rs. 1000 denomination; the papers were supplied by Security Paper Mill (SPM), Hoshangabad and were printed in Currency Note Press (CNP) in Nashik. He also shared that the Security Printing and Minting Corp of India Limited (SPMCIL), along with SPM and the CNP had set up an inquiry. The concerned personnel, who were found guilty under the offense, have been issued severe penalty chargesheet and their trial under disciplinary proceedings had started.
The Minister of State for Finance also added, ""Action has been taken to strengthen quality procedure and online inspection system in manufacturing process. A new Standard Operating Procedure (SOP) has been prepared and implemented," He further stated, "Special training has been given to concerned persons to avoid such mistakes in future and additional inspections have been introduced to ensure defect-free production".
Polymer banknotes of modern era of $10 were first introduced by Reserve Bank of Australia in 1988 to combat forged currency issue and in 1996 Australia embraced all plastic banknotes. After Australia the countries - Brunei, New Zealand, Papua New Guinea, Vietnam and Romania followed the move.
The problem of fake currency has quite a menacing effect on India economy. As per data collected by a trusted media source, published in June 2016, the fake banknotes of face value of Rs. 70 Crore are brought into circulation in the system every year and only a third of them are caught by the enforcement authorities. The report said that forged currency of about Rs. 400 Crore remain in our economy 'typically at any point in time'.